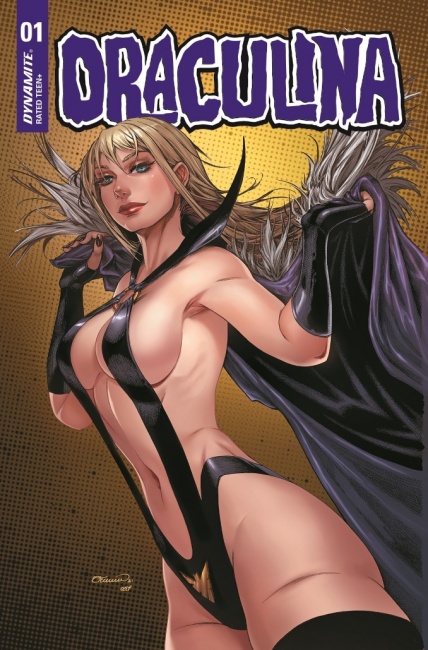 Sponsored
: Draculina is coming, the next can't-miss chapter in Christopher Priest's acclaimed expansion of the Vampirella mythos, starring the icon's sister.
With her appearance following right after her sister Vampirella with the second issue of the original magazine, Draculina has appeared in sporadic, yet memorable roles since through the years. That all changes this February, as critically acclaimed and history making writer Christopher Priest (
Black Panther
,
Deathstroke
) and franchise favorite Michael Sta. Maria (
Vengeance of Vampirella
) spin her off into her own series that fans of the franchise and newcomers alike will not want to pass up.
"The book is about one child and two destinies," said writer Christopher Priest. "It is a metaphor for life: the road not traveled. Every day each of us make choices that lead to varying consequences which affect our reality. That is what we are seeing here: Lilith's choices splitting reality and the consequences that brings."
As seen in Priest's
Vampirella
and
Sacred Six
sagas, now also continued in
Vampirella/Dracula: Unholy
, the original Draculina was a surprise reveal for longtime readers. Now she finds herself "attached" to the new character of homeless, preteen vamp-groupie Katie, with their souls linked a la a twisted Shazam. With her new presence on Earth, Draculina is going by the alias "River East" and playing the part of a high-profile socialite celebrity. All while her machinations of an evil agenda of retribution near its kickoff.
Will these two unique and headstrong women, one young and one much, much older, be able to both survive through Draculina's devilish plans, and will their connection reveal truths to each other?
Priest and Sta. Maria are joined by colorist Ivan Nunes and letterer Willie Schubert. The cast rounds out with jaw-dropping covers by top artists including Collette Turner, Rose Besch, Guillem March, and Rafael Kayanan. Panda Valentine depicts Draculina's iconic black variant suit on a cosplay cover. Last but not least, rising superstar Judy Jong brings her unique approach to a stunning incentive variant.
Draculina
#1 is solicited in Diamond Comic Distributors' December 2021
Previews
catalog, the premier source of merchandise for the comic book specialty market, and slated for release in February 2022. Comic book fans are encouraged to preorder copies of the issue with their local comic book retailers.
Click Gallery below for full-sized images.