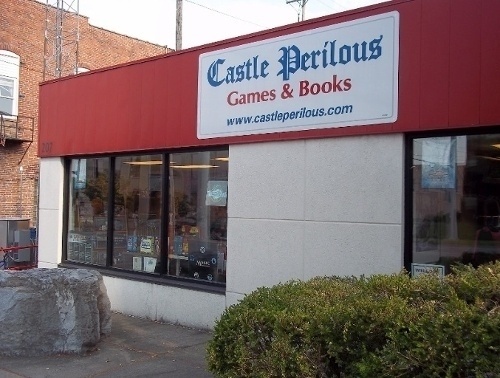 Rolling for Initiative is a weekly column by Scott Thorne, PhD, owner of Castle Perilous Games & Books in Carbondale, Illinois and instructor in marketing at Southeast Missouri State University. This week, Scott Thorne lays out questions for the GAMA Trade Show this week in Reno.
Not going to make it to the
GAMA Trade Show
for the 2nd year in a row, primarily because 8 week grades for two of the classes I teach come due on Monday but if I was there, here are some of the questions I would ask:
Paizo
. What plans do you have for the launch of
Pathfinder 2nd Edition
? And to encourage in-store play? Paizo has a much more robust organized play program than Wizards of the Coast currently does for
Dungeons & Dragons
but little incentive for stores to run organized play programs, especially given the subscription/discount program Paizo has had in place for years.
Gaming Days LLC
. Congratulations on
your purchase
of Free RPG Day. WOTC has declined to participate since the first couple of years of the event. Will you be approaching them again to participate? One of the major complaints retailers have had over the years is that, unlike with Free Comic Book Day, stores cannot order specific quantities of offered titles, so if a store wanted more of a particular giveaway, it would have to order a second kit. Do you have any plans to make changes to address this in 2020 and beyond?
Wizards of the Coast
. What is the rationale for selling a booster set that customers can only buy by the box and only through eBay? Why are you ending the early release program for WPN stores? The alternate covers for your
D&D
books made an individual title special so by producing an alternative hobby-only cover for every upcoming book, are you concerned about swamping the market with them? And, for pity's sake, why did
D&D
books sell at below distribution pricing through Amazon for two months? Any plans for more releases in the
Axis and Allies
and
Betrayal at House on the Hill
lines? Will we see relaunches of older WOTC games such as Great Dalmuti,
Three Dragon Ante
and
Three Dragon Ante: Emperors Gambit
(the
latter two are selling for $50
and up on eBay)? Does the
new Reporter software
require us to collect smartphone numbers (and does Soleil Moon Frye play
Magic: The Gathering
)?
Any Other RPG Company
. If you sell PDFs of your RPG, are you participating in the
Bits and Mortar
program or do you have a program in place similar to that of Green Ronin whereby we can get discount codes to give to our customers, allowing them to get a PDF of the book at a significant discount when they buy a hardcopy?
Atlas Games.
Your
Lunch Money card game
came out in 1996. You missed opportunities to promote it on its 10th, 15th and 20th anniversaries. Do or will you have anything planned for the game's 25th anniversary in 2021? After all, Flying Buffalo took advantage of the 50th anniversary of
Nuclear War
to push a major relauch of the game and it juiced sales nicely.
Any Other Boardgame Company
. We had noticeable out of stocks of very popular games such as
Root
and
Gloomhaven
all through the last two months of last year and at least one case where the publisher had plenty of copies in stock but distribution had run out. Do you have any plans to smooth out your supply chain in order to make sure you have stock available for the last quarter of 2019?
Konami
. Could we start getting promotional print material, such as posters, etc., for Sneak Peeks a couple of weeks ahead of time? And print materials for the Lost Art Promotion showing the cards would be great as well.
I have a lot more questions but only so much space. Hoping that some of these get answered next week and the answers get posted in various FB groups or here on ICv2. If you have an answer to any, please email me at castleperilousgames@gmail.com.
The opinions expressed in this column are solely those of the writer, and do not necessarily reflect the views of the editorial staff of ICv2.com.