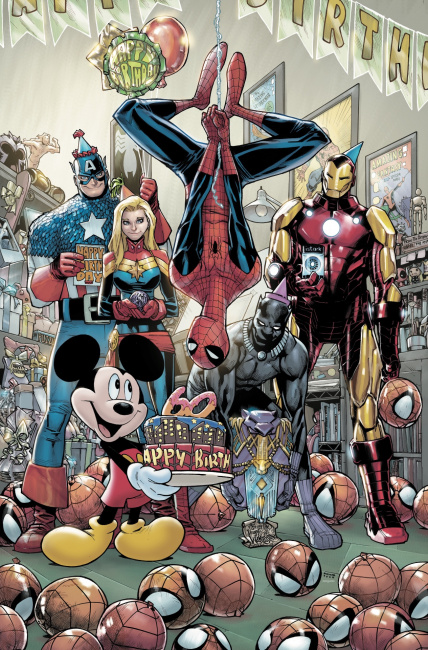 Confessions of a Comic Book Guy is a weekly column by Steve Bennett of Super-Fly Comics and Games in Yellow Springs, Ohio. This week, Bennett goes over some of the highlights from D23 2022.
Back in June 2015 (see "Confessions of a Comic Book Guy--Pro Con"), I wrote about how I thought that with its panels, celebrities, and teaser trailers, Disney's D23 was becoming a suitable alternative to Comic-Con in San Diego. I don't know if we're "there yet" exactly, but a number of interesting comic-related stories did come out of D23 Expo 2022, which ran on September 9-11.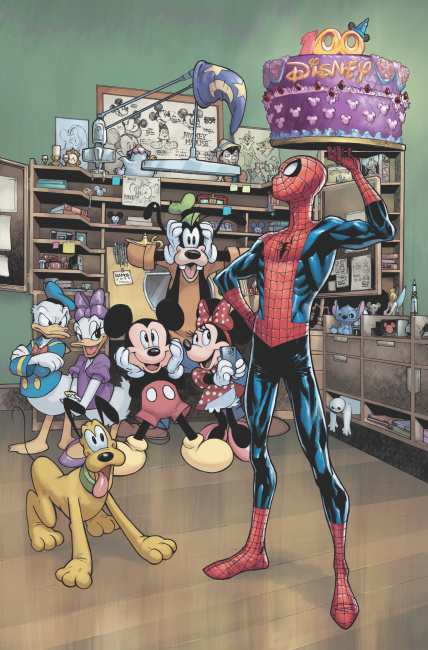 I myself am not one for chasing variant covers, but if you are, you probably already know that those who attended the Celebrating 60 Years of the Amazing Spider-Man panel at D23 received
two issues of Amazing Fantasy #1000 featuring variants drawn by Humberto Ramos and colored by Edgar Delgado
. On one, Spider-Man gives the classic Disney characters a cake for The Disney Company's 100th Anniversary, which takes place next year. On the other, they return the favor by giving Spidey one for his 60th Anniversary.
Following the panel, attendees could go to the Talent Central booth and get those issues of comics signed by Marvel's Editor-in-Chief C.B. Cebulski, Executive Spider-Editor Nick Lowe, artist Humberto Ramos, and writer Zeb Wells. I generally don't care about getting my comic autographed either, but I would have liked to have signed copies of these. I don't know how limited the print runs for these are, but it's likely they'll be much rarer than a lot of other variants.
I don't care that much about the rare variants, but I'd like to have them for the sheer freak factor of seeing Disney and Marvel characters interacting and for the strength of Ramos' art. I've long been a fan of his work, but had no idea he was capable of drawing Disney characters, especially that well, and Marvel shouldn't let this ability go to waste. They've clearly found the artist for my proposed comic, Mickey Mouse: Agent of S.H.I.E.L.D. I used to think of it as being a nearly impossible long shot, but with the success of the Warner Bros. MultiVersus video game, it's probably only a matter of time until Disney/Marvel develops their own multi-brand crossover franchise.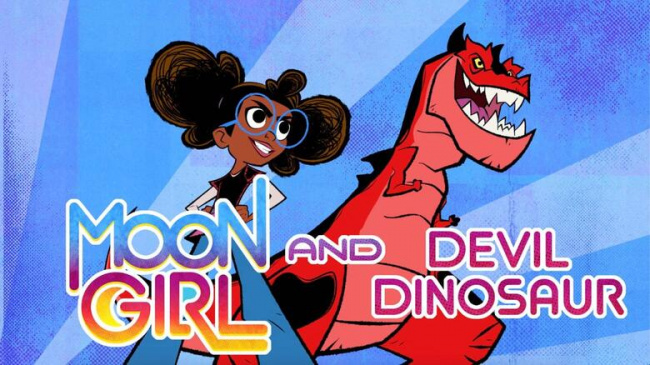 I've been looking forward to seeing the
Moon Girl & Devil Dinosaur
animated series ever since it was announced back in February 2018 (see "
Confessions Of A Comic Book Guy -- Afrofuturism Now!
"). Well, on September 10 a trailer dropped for it at D23, and it looks like the series, which debuts on February 10, 2023, is going to have a lot of appeal for its intended audience of younger viewers.
But, it's also clear the animated series is going to be quite a bit different from the comics. As previously established, they've aged Moon Girl up from 9 to 13, but the major difference is in attitude; for starters, Lunella Lafayette has less of one. I'm a big fan of the comics, but Lunella can be a lot; she's sour, smug, superior, and (with the exception of Devil Dinosaur) friendless.
By comparison, the trailer is practically pulsing with positivity. It's upbeat and full of energy with an original color scheme and quirky visual style. The trailer also introduces us to Moon Girl's human BFF, her supportive extended family, and her catchphrase, "Moon Girl Magic!" (an obvious take-off on the phrase "Black Girl Magic"). I hope you like it because I'd imagine you're going to be hearing it a lot; Lunella says it three times in the trailer.
And finally, back in December 2020 (see "
Confessions Of A Comic Book Guy -- A Dispatch From The Streaming Wars
"), I wrote about
Iwájú
(the title translates roughly to "the future"), an upcoming collaboration between Disney Animation Studios and Kugali Media, a pan-African comics publisher. Well, we got our first look at this project,
a science fiction series in future Lagos, Nigeria
at D23. It's about Tola, an heiress from the rich part of town, and a poor boy named Kole. So far, they've only shared images from the series, but they definitely make me want to see more.
The opinions expressed in this column are solely those of the writer, and do not necessarily reflect the views of the editorial staff of ICv2.com.