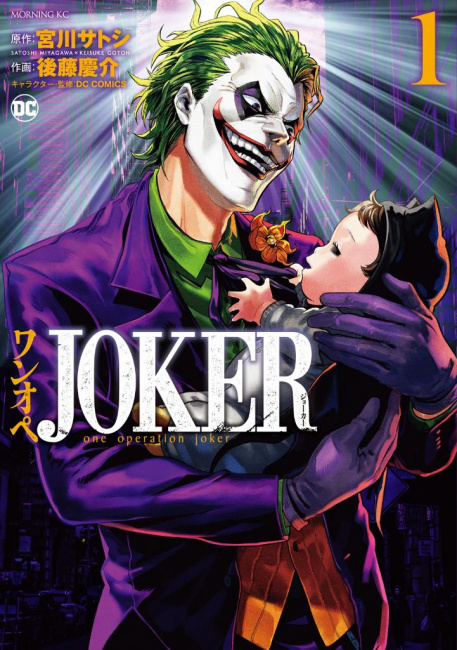 Confessions of a Comic Book Guy is a weekly column by Steve Bennett of Super-Fly Comics and Games in Yellow Springs, Ohio. This week, Bennett talks manga reinterpretations of comic characters , pregnant Joker, Spider-verse India, and more.
I love manga, itself, just as much as I love to see comic characters being reinterpreted by Japanese artists. This is why back in December 2020 (see "Confessions Of A Comic Book Guy -- Christmas With The Joker"), I wrote about how DC Comics had partnered with Japanese publisher Kodansha to produce two original Batman manga; Batman Justice Buster by Eiichi Shimizu, Tomohiro Shimoguchi, and Wanope Joker (Joker: The One-Man Operation) by Satoshi Miyakawa and Keisuke Goto. The one that interested me most was Joker: The One-Man Operation, due to its overtly outre premise of The Joker raising baby Bruce Wayne as his son. But what was nearly unforgettable was the deeply disturbing image the publisher provided of a particularly fiendish-looking Joker holding a baby.
Well, it took a lot longer than I would have liked, but they're finally being translated into English and will be published in America in paperback this fall. But first, they'll premiere on DC's Universe Infinite app in a "manga-friendly reader mode", which is where I'll be reading them. Given the amount of disapproval that "Pregnant Joker" received in certain circles (see "Confessions Of A Comic Book Guy -- This Week In Outrage"), I can only imagine the indignation that Single Parent Joker will generate.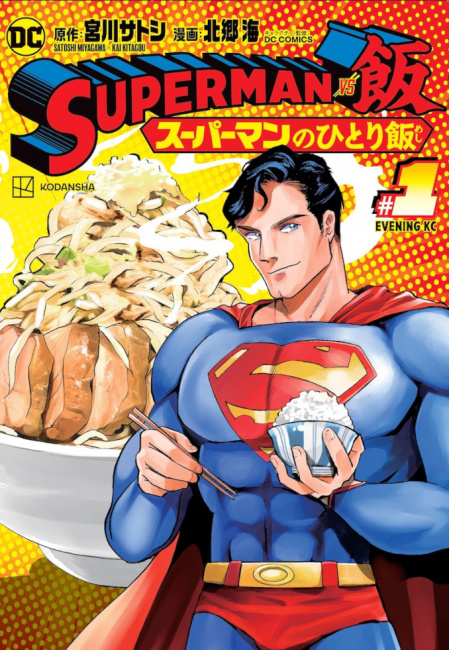 Plus there's a third DC manga coming out alongside them,
Superman vs Meshi
by Satoshi Miyakawa and Kai Kitago. As I pointed out in August of 2022 (see "
Confessions Of A Comic Book Guy -- The Very Thing I Wanted
"), I'm a big fan of manga about food and cooking, so naturally, I'm eager to see one where Superman uses his super powers exactly the way I would; taking super speed trips to Japan to take my lunch breaks.
As I've previously confessed back in March 2019 (see "Confessions Of A Comic Book Guy --Maybe It's The Comics") that until the 2018 movie Spider-Man: Into The Spider-Verse, I was never what you'd call a fan of the whole Spider-Verse concept. As I'm an increasingly old fan, I tend to find these sorts of arbitrary add-ons to be pretty far afield from Stan Lee and Steve Ditko's Amazing Spider-Man. When he gets involved in cosmic stuff Spidey is definitely punching way above his weight.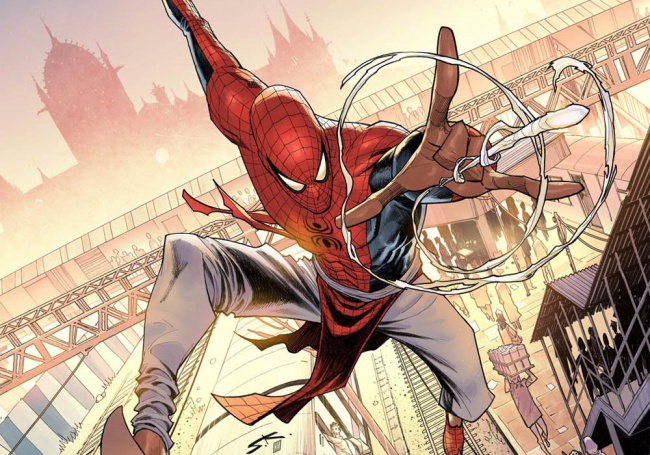 Spider-Man: Into The Spider-Verse
made me into a believer though, and I've come to admire all of the creative ways that Spider-Man has been adapted; the gay Web Weaver, disabled Sun Spider, Spinstress, the magical singing princess Spider-Person, etc. But I had somehow forgotten about Pavitr Prabhakar who was created by writer/artist Jeevan J. Kang along with co-writers Sharad Devarajan and Suresh Seetharaman for the 2005 miniseries
Spider-Man: India
This is odd given how much of a fan I was of the series at the time, partially because of my interest in Indian cinema and comics, but also because of how fresh and original it seemed. Well, because Pavitr will be making an appearance in the movie's long-awaited sequel, Spider-Man: Across the Spider-Verse, coming out on June 2, there's going to be a new Spider-Man: India four-issue miniseries in June written by Nikesh Shukla and featuring art from Abhishek Masluni.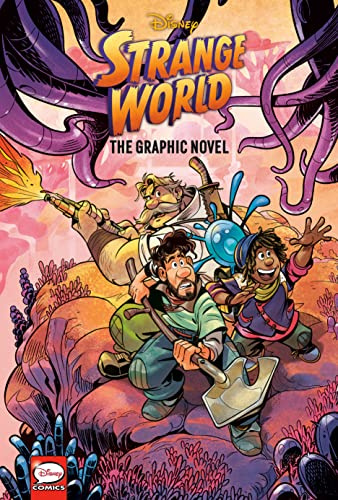 I'm an admitted fan of the Disney movie
Strange World
(see "
Confessions Of A Comic Book Guy -- From Flop To #1
"). There, I noted that while there was a graphic novel adaptation coming out, but it wasn't being released until February, months after the film came out. Well, while I was in Barnes and Noble, I picked up a copy and talked to the clerk where I learned not only had she heard of the movie, but she had seen it before its official debut while on a Disney cruise.
For the record, Disney Strange World: The Graphic Novel is 72 pages, for reading ages 6-8 and Grade Level 1-3, and has an SRP of $12.99. And like the graphic novels for Encanto and Turning Red, it's' unfortunately just credited to "RH Disney" (and sometimes "RH/Disney") -- I can't see how it would hurt to credit the talented artists who created it. It's a handsome little hardcover that includes some helpful "Meet The Characters" pages (so we finally get to know the names of Ethan Clade's friend group), and for the most part, it does an able job of telling the movie's story.
For more Manga Week coverage, click here.
The opinions expressed in this column are solely those of the writer, and do not necessarily reflect the views of the editorial staff of ICv2.com.