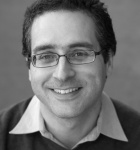 ICv2 recently spoke with Gonzalo Ferreyra, Viz Media Vice President of Sales and Product Marketing, to get his views on the state of the manga and anime markets and their trends. In Part Four, of this four part interview, we talk about Viz Pictures, anime time lags, and some of the company's most exciting release plans for 2009, including a new science fiction publishing imprint. In Part One, we talk about the over-all manga market, changes by channel, and the evaluation a year later of the "Naruto Nation" release surge. In Part Two, we talk about the widening sales gap between top and other manga titles, Viz's plans for OEL projects, the changing demographics of manga readers, Borders' role in the manga market, over-all anime DVD market trends, and the state of anime on TV in the States. In Part Three, we talk about the widening sales gap between top and other anime titles, the mainstreaming of anime, and trends in online delivery of anime and manga.
You said that you'd like Viz to be viewed not just as a manga publisher, but more broadly as a publisher. It seems like you've got a similar plan going on the DVD side where you started putting out some live action material in addition to anime. What has the response been to those initial live action releases, and what are your thoughts on that program?
It's been good. We just had our biggest release to date, which was Death Note and then shortly we'll have Death Note 2--the live action movies. Just to be clear, we actually distribute Viz Pictures, which is a distributed line of Viz Media by Seiji Horibuchi and his team, so it is a separate entity from Viz Media.
When we did your last interview in 2007 (see "Interview with Gonzalo Ferreyra"), we talked about how Viz was going to try to get the anime releases for Naruto out closer to when they were out in Japan. On average, how long is it taking for something to appear here on DVD from when it's released in Japan and how's that changed in the past year?
It varies considerably--anywhere from one to many, many years. On average, you're probably looking at a gap of two to three years between appearance in Japan and legitimate versions reaching these shores. How's that changing? Obviously we're looking to narrow that gap for many number of reasons, and it's steadily happening. We'll see just how much we can narrow that gap going forward.
It's interesting to see Gonzo offering online availability of English versions of one or two titles at the same time as they were appearing in Japan. That's an example of one extreme of how quickly the turnaround can be, is Viz hoping to get that close?
I can't say one way or the other. We are looking closely at it. There are many factors that pose a challenge for us there. Certainly the production issues are sizable, and I do think it presumes a shift in our perception of the process that we'll continue to work on.
What are the properties for 2009, whether for manga or anime or both, that Viz is most excited about?
Naoki Urasawa's 20th Century Boys is a hugely anticipated seinen title from one of the undisputed masters of manga and creator of one of my all-time favorites, Monster.
IIkigami, is a big, dark title. It's definitely a seinen title for older readers. It's a fantastic conceit--Rod Serling could have come up with it. It's a futuristic society--almost like a Logan's Run mentality--where the population needs to be weeded out by the government and a different individual in each chapter is brought a letter by the main character (who's the deliverer of this letter), which informs them that they have 24 hours to live. And so each chapter is how each individual handles the 24 hours. It's pretty tremendous. That's a Mature title coming out in May. Solanin is another on the more grown-up side that we're very excited about.
Oishinbo is the classic food manga. It's very much this massive saga. In Japan the original series ran to over 100 volumes. We're going to do an a la carte version of that entire series with, I believe, 13 volumes each devoted to a separate cuisine. The story is an Iron Chef meets soap opera saga, complete with recipes and these various sets of food types involved in the storylines. So that's an in-house favorite that we're looking forward to.
Any other comments?
In terms of our expansion efforts, going back to the comments I made about expanding to be recognized as a publisher, one of the more exciting initiatives has been the Haikasoru imprint which will launch in the coming year, which is quite firmly not manga. It's a Japanese science fiction imprint that is spearheaded by one of our editors here and is a wholly separate imprint. The name Haikasoru is a kind of Japanified version of "high castle." It's a veiled homage to Philip K. Dick's Man in the High Castle which is set in an alternate world where Japan colonizes the west coast of the U.S. It's pretty traditional science fiction. We'll see where it goes in terms of the breadth. It's solidly a fiction line and we've got the buyers onboard for it. It's pretty exciting to see what come out.
On another note, I should mention in discussing our efforts to redefine the perception of manga in the U.S., that this fall will see the launch and continuation of several new formats aimed at providing fans with more great options... the multi-volume boxed sets for Naruto, Bleach, and Death Note; collectible deluxe hardcover editions of volume 1 of Naruto, Bleach, Death Note, and Yu-Gi-Oh!; and VIZ BIG thee-in-one editions of Dragonball, Dragonball Z, Vagabond, and Rurouni Kenshin.