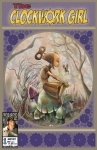 New company Luximation is producing a 3-D animated feature based on Arcana Comics property The Clockwork Girl. Cast for the feature are Alexa Vega (Spykids) in the title role of Tesla, the Clockwork Girl; Jesse McCartney (Horton Hears a Who) as Huxley; and Carrie-Anne Moss (Trinity in The Matrix) as Wells.
Luximation was created for the production. Initial financing was provided by an advance against Asia from Korean company CJ Entertainment, which plans to release the film in Asia in Q1 2011. Domestic rights will be shopped soon.
The film is being produced by Arcana publisher (and Clockwork Girl co-creator) Sean O'Reilly, and directed by co-creator Kevin Hanna. Hanna has previously done videogames "from Disney to Xbox." This is his first animated feature.