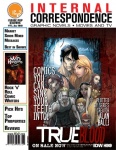 Although retailers interviewed by ICv2 for Internal Correspondence #72 reported that market conditions were slightly better in the first half of 2010 than they were in same period in 2009, it has been periodical comics, not graphic novels that have helped inch the comic market out of its recessionary hole. Graphic novel sales in the direct market have declined by double digits every month in 2010 so far with the exception of February, when they posted a 1% gain.
Graphic novel sales appear to be down in the bookstores as well with Yen Press' Twilight graphic novel the only breakout hit. The other bestselling movie-driven graphic novel in the first half of 2010, Marvel's Kick-Ass Hardcover posted sales that were less than 10% of what Watchmen achieved during the same period in 2009.
But it's not all doom and gloom on the graphic novel sales front. Bryan Lee O'Malley's Scott Pilgrim volumes have been selling briskly in the run-up to the August release of the movie, and the fall debut of the TV adaptation of Robert Kirkman's The Walking Dead should inspire additional sales of that fast growing property. Dark Horse received orders for more than 80,000 copies of Janet Evanovich's Troublemaker, and IDW has adaptations of 2 James Patterson bestsellers on tap as the number of bestselling authors producing graphic novels (or allowing others to adapt their works) continues to grow.
After two years of double digit declines in sales of manga American manga publishers have formed a coalition with their Japanese counterparts to battle the illegal Internet distribution of unlicensed manga via scanlation sites where translated versions of manga often appear just days after publication in Japan. The coalition has had some success in shutting down some of the main aggregator sites, though it's far too early to see if sales will be boosted by making it somewhat more difficult to read manga for free online.
Of course the ultimate solution to pirate manga sites would be legitimate, reasonably-priced e-book type distribution, which is something that is more likely to happen with traditional American comics first. In the new Internal Correspondence ICv2 takes a look at the first halting steps taken by the "Big Two" comic publishers toward "day and date digital distribution" of new comics.
Along with its usual complement of reviews, the new issue of Internal Correspondence also includes listings of "Pick Hits" in all the major graphic novel categories, plus "Best in Shows," which lists the movies most likely to drive sales of graphic novels.


Here are ICv2's top graphic novel properties in a number of categories for Q2 2010:
"Top 10 Genre Properties--Q2 2010"
"Top 10 Fiction & Reality GN Properties--Q2 2010"
"Top 15 Superhero Properties--Q2 2010"
"Top 5 Comic Strip Properties-- Q2 2010"
"Top 10 Kids Tweens & GN Properties--Q2 2010"
"
Top 25 Manga Properties--Q2 2010
"
For information on how to get the new issue of Internal Correspondence, see "ICv2 Releases 'Internal Correspondence' #72."