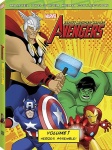 Animated TV offerings lead the way this week with the first two volumes of Marvel's Avengers and the 14th season of South Park, but there are also some interesting cult films such as a science fiction vampire movie featuring the inimitable Forrest J. Ackerman (of Famous Monsters) and John Lennon's only non-Beatles feature film.
TV on DVD
The Avengers: Earth's Mightiest Heroes Vol. 1: Heroes Assemble (Disney, 154 min., $19.99) collects the first 7 episodes of the Marvel Animation series that debuted on the Disney XD Channel in the fall of 2010. The series features the original Avengers lineup including Ant-Man, Hulk, Iron Man, Thor, and the Wasp and utilizes a lot of the original Avengers storylines by Stan Lee and Jack Kirby. The episodes are action-packed. In the first 7 episodes viewers get to see how the Avengers super team was formed. There is a close correlation between how these cartoon Avengers look and sound and the way they are portrayed in the Marvel's live-action movies. Eric Loomis, who voices Iron Man, sounds almost exactly like Robert Downey, Jr., the cartoon Pepper Potts sounds like Gywneth Paltrow, and the animated Nick Fury's voice resembles that of Samuel L. Jackson. The Avengers: Earth's Mightiest Heroes Vol.2: Captain America Reborn (Disney, 135 min., $19.99) includes six episodes chronicling the return of World War II hero Captain America, who was revived after having been frozen for years in the depths of the ocean. Bonus material on the two Avengers discs is limited, but it does include a cool preview of Season 2 of the Avengers animated series.
The other key animated release this week is South Park: The Complete 14th Season (Paramount, 308 min., $49.99, BD $57.99), which contains all 14 episodes of the irreverent Comedy Central series' 14th Season, which includes an epic three-episode arc that reveals the identity of Mysterion.
Continuing series due out this week include the sitcom Growing Pains: The Complete Second Season (Warner Bros., 572 min., $29.98), the hilarious faux talk show The Larry Sanders Show: Season 3 (Shout Factory, 450 min., $34.93), and The Lucy Show: The Official 4th Season (Paramount, 660 min., $39.98).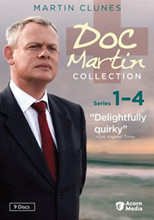 A bunch of great documentary series are also due out this week including
The Universe: The Complete Series Megaset
(A&E, 3055 min.,$149.95, BD $179.95). Shot in HD and using stunning footage from NASA along with state-of-the-art CGI graphics, this is a truly epic set that includes all 63 episodes of the History Channel series on 16 discs along with loads of cool extras like "7 Wonders of the Solar System," "Beyond the Big Bang," "Meteorites: Fire in the Sky," and "Comets: Prophets of Doom." By all means spend the extra money on the Blu-ray version of this superb series, the higher visual quality is well worth the cost.
Interesting in its own way, though not nearly as visually stunning is Human Planet: The Complete Series (BBC, 480 min., $39.98, BD $49.98), which examines the complex relationship between humans and nature.
Movie buffs will love Moguls & Movie Stars: A History of Hollywood—The Complete Series (Warner Bros., 420 min., $39.98), a detailed, decade-by-decade history of Hollywood that aired on the Turner Classic Movie cable channel, while those interested in military history will certainly enjoy 20th Century With Mike Wallace: America at War (Acorn Media, 470 min., $49.99), which includes all ten episodes of the documentary series detailing America's 20th Century conflicts with a special emphasis on how the military has changed in response to the changing nature of the conflicts in which it has been involved in the latter half of the Century.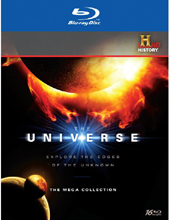 The top U.K. release this week is
Doc Martin Collection: Series 1-4
(Acorn Media, 1440 min., $99.99), a nine-disc set that includes all the episodes (so far) of the intriguing comedy series set in an unbelievably picturesque seaside village in Cornwall, where an accomplished surgeon, who has developed a "blood" phobia, is forced to set up shop as a GP. Martin Clunes is superb as the aloof Doc Martin, whose social skills are so limited that he appears to be suffering from Asperger's syndrome, and Caroline Catz is equally good in an even more difficult role as the "straight woman" in the doctor's life. Doc Martin, which has been shown on American public TV, is a series that should be seen from the beginning. Its narrative becomes increasingly gripping as the viewer becomes accustomed to the quirky, but lovable characters in this comedy/drama.
The bestselling U.K. TV release this week will undoubtedly by
Upstairs Downstairs: The 2010 Mini-Series
(BBC, 180 min., $34.98). While not quite as good as the original
Upstairs, Downstairs
(see "
DVD Round-Up: Week of March 29th
"), the new series, which features a largely new cast and is set in 1936, is still better than almost anything else on TV.
Equally well-written, but far less well known than
Upstairs Downstairs
is
Demob
(Acorn Media, 312 min., $39.99), a nostalgic comedy drama set in post World War II Britain. Martin Clunes also stars in
Demob
along with Griff Rhys Jones as two ribald comedians who after honing their skills putting on skits for their fellow soldiers during the war, continue their show business careers as comics in London's demimonde and on what was left of the music hall circuit.
Classics on DVD
With declining DVD sales the studios have been faced with the problem of how to make the most out of their considerable libraries of older films. Having already harvested the low-hanging fruit—classic films like Casablanca, The Wizard of Oz, and The African Queen that can still post decent sales numbers—the studios are left with the problem of how to deal with the thousands of lesser-known films. Given the increasing cost of producing a hi-def transfer and marketing a classic film Blu-ray, studios such as Warner and now MGM/Fox are putting out no frills editions of older films with more limited appeal. Warners has a "Video-on-demand" service, which creates DVD-R discs of its films based on individual orders. MGM has inaugurated its MGM Limited Edition Collection of no-frills DVD releases that are only available through online retailers like Amazon.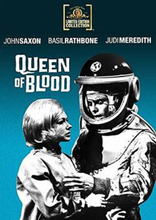 The first wave of MGM releases includes the quintessential cult film,
Queen of Blood
(MGM, $19.98). Released in 1966 by American International and produced by the ubiquitous Roger Corman,
Queen of Blood
is a classic example of a 60's B film. It was made for just $50,000, but it has the look of a much more expensive film thanks to its director Curtis Harrington, a real visual stylist, and to the fact that its spaceship and planetary sequences are all taken from the Russian films
Mechte Navstrechu
and
Nebo Zovyot.
Add in a cast that includes Basil Rathbone, Dennis Hopper, John Saxon, and
Famous Monsters of Filmland's
own Forrest J. Ackerman and you have the perfect recipe for a cult movie.
Queen of Blood
is heavy on atmosphere and light on action, but the sequences featuring Florence Marly as a green-skinned alien queen are truly creepy. The visual quality of this print isn't too bad, though the garish Pathe color process has lost some of its intensity and many of the borrowed rocketry scenes are borderline fuzzy. The credits unspool over wildly colored space fantasy paintings by artist John Cline that set the tone for the film that follows.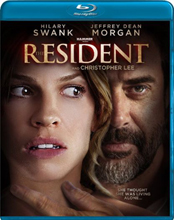 Also in the first wave of MGM releases is Richard Lester's
How I Won the War
(MGM, $19.98) an anti-war black comedy from 1967 that marked the only non-Beatle feature film starring John Lennon. Beatle completists will definitely want this disc, especially considering that Lester directed both the ultimate Beatles' film,
A Hard Day's Night
and
Help
.
How I Won the War
features a real hodge-podge of narrative techniques and is filled with puns based on obscure British military slang along with plenty of surrealist and absurdist touches. While hardly a perfect film, it perfectly embodies the anti-war spirit of the 1960s.
Anime
New anime releases this week include The Girl Who Leapt Through Space (Bandai, "13+," 175 min., $29.98), the first release of the Sunrise mecha comedy series that aired in Japan in 2009, and K-On! Vol.1 (Bandai, "13+," 100 min., $29.98, BD $34.98), the first of four volumes that will cover the 13-episode series from Kyoto Animation that adapts the seinen manga by Kakifly. K-On! in particular has quite a reputation—Kyoto Animation is one of the "hot" anime studios, and this comedy series about a group of girls forming a rock band is charming, though a bit slight.
Also new this week is Asylum Session (Sentai Filmworks, "13+," 65 min., $19.99), an anime feature from 2009 about a girl who runs away from home when her father won't let her become an artist. She joins a group of homeless outcasts who live in tents in an abandoned stadium they call "The Asylum," which is fine until the government decides to tear the stadium down.
Re-priced re-releases include Kashimashi: Girl Meets Girl (Media Blasters, "13+," 325 min., $24.98), which includes the 12-episode anime adaptation of the yuri science fiction romantic comedy manga series by Satoru Akahori (published here by Seven Seas), and 5 Centimeters Per Second (Bandai, "13+," 212 min., $24.98), the brilliant animated feature by Makoto Shinkai, which is one of the most beautiful and poetic anime films of the decade.
Theatrical Movies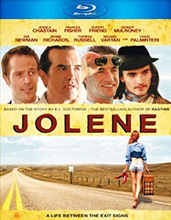 It's an unbelievably light week for theatrical releases
. Jolene
(Entertainment One, "R," $24.98) is an episodic road picture based on short story by E.L. Doctorow about a beautiful orphan who is married at 15 and spends the next ten years of her life on the road. Well-shot and well-acted,
Jolene
nevertheless doesn't really hang together all that well thanks to the weakness of the film's underlying storyline, which feels like it owes more to the picaresque narratives of 18th Century novels than to the realities of 21st Century America.
The venerable British horror film studio Hammer returned from the dead last year with
Let Me In
, a solid remake of the Swedish film
Let the Right One In
. Hammer's second U.S. release,
The Resident
(Image, "R," BD $27.97) turns out to be slightly less than the sum of its parts, which include an "A-list" cast headed by Hillary Swank, Jeffrey Dean Morgan, and Hammer vet Christopher Lee, superb noirish photography by Guilleromo Navarro (
Pan's Labyrinth
), and innovative direction from Finnish helmer Antii Jokinen. Swank plays a busy ER doctor who separates from her husband and, surprisingly finds a fantastic apartment in New York City. Unfortunately this apartment comes complete with a stalker—and
The Resident
, in spite of some nice
Rashomon
-like narrative touches during the first half of the film, eventually devolves into a rather typical, if gory, example of the "peeper" genre of movies. That is not to say that this movie doesn't provide its share of thrills and stylish visuals, it just ends up a lot more conventionally than it begins.