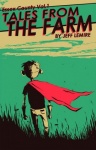 John Dykstra, who has created the special effects for numerous Hollywood films including most recently X-Men: First Class, will make his directorial debut with Super Zero, an adaptation of Jeff Lemire's award-winning Essex County (published by Top Shelf). John Carr has written the screenplay for Super Zero, which is an adaptation of the first book in Lemire's Essex County Trilogy, Tales From the Farm, which won the YALSA Alec Award in 2008.
The special effects company Rhythms & Hues Studio is packaging the project and, according to
Variety
, hopes to have commitments from actors as well as financing lined up in time to make a splash at Comic-Con International in San Diego.
The plan is to make Super Zero as a live-action film with lots of special effects sequences. Tales From the Farm is the story of a orphaned 10-year-old boy who is sent to live with an uncle on an isolated farm. The boy befriends the owner of a small town gas station, who is an ex-pro hockey player and the two unlikely friends devise a fantasy world of superheroes and alien invaders.
Dykstra told Variety, "I've been so involved in films that are primarily based on the action sequences and over-the-top visuals that this to me was incredibly attractive just based on the depth of the characters and the evocative nature of the story."