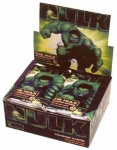 Although Topps is producing trading cards for Daredevil and X-Men 2, the first two major Marvel movies of the year, Upper Deck will release Incredible Hulk cards in conjunction with Ang Lee's summer blockbuster film, which opens on June 20. Upper Deck's Hulk cards will include many scenes from the film and cards signed by some of the film's principals, including director Ang Lee; but they will also feature lots of elements from the Hulk comic book tradition such as key comic book covers and art from top comic creators such as John Romita, Jr.. The rarest chase card in the entire series will feature an actual autograph of the original Hulk artist, Jack Kirby, which will be cut out and affixed to a card. The other key Hulk creator, Stan Lee, will autograph cards for the series.
The Upper Deck Hulk cards will come in six-card packs with 24 packs per box and 12 boxes per case.

Each case will include two Jack Kirby-style Incredible Hulk Bobbers (bobble-head style figures).

More details about the first release in this new era of Marvel trading cards will be released in the next few weeks.