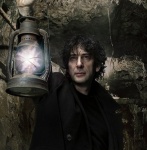 While accepting his Hugo Award for writing "The Doctor's Wife" episode of Doctor Who, Neil Gaiman noted that after pleasing so many Doctor Who fans with the first episode he wrote, "Only a fool or a madman would try to do it again... so I'm on the third draft." Gaiman's announced return to the land of the TARDIS will certainly please the fans that made "The Doctor's Wife" an instant classic in the long-running Whovian tradition.
Gaiman revealed no details about the new episode, but he did tell
i09
that his new episode is currently slated for the second half of Season 7 of the revived
Doctor Who
, which means that it would air sometime in the spring of 2013. But Gaiman noted that his award-winning "The Doctor's Wife" episode was originally slated for broadcast in Season 5, but for budgetary reasons--basically in order to get enough funds to make the episode properly--it was delayed until Season 6. The same thing could well happen to the second Gaiman-penned
Doctor Who
episode.