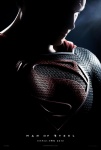 Man of Steel
director Zack Snyder hinted that the Superman film, due out June 14, 2013 (see "
Warners Flogs 'Man of Steel'
"), will lead into Warners'
Justice League
(see "
Warner Bros. Slates 'Justice League' Movie for 2015
") in an interview with the
New York Post
. The
Post
asked Snyder whether he'd been talking to the studio "...about integrating
Man of Steel
into a larger superhero universe," and got a non-denial denial. "I can't really say anything to that, because that's a big spoiler," Snyder said. "I will say, yeah, they trust me to keep them on course."
Marvel has shown how to tie superhero movies into a superteam spectacular, and it would not surprise if DC and Warners followed suit.