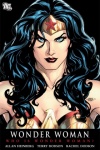 After initial stories appeared indicating that Amazon, the Smallville-like TV series built around the early years of Wonder Woman would not be ready to join the CW network next fall comes word that the network is still holding a spot for DC Comics-based series. Getting a Wonder Woman series on the air is high priority for the CW Network, which has scored a major success with the DC Comics-based Arrow series this fall, so the fact that the CW has not ordered a Wonder Woman pilot hardly spells doom for the Amazon project.
According to
Deadline,
the network just doesn't feel that the series, which is based on a script by Alan Heinberg is far enough along in development to consider filming a pilot. The CW has also been searching for a charismatic lead for the series, and apparently has yet to settle on an actress even though the network has been searching since November (see "
CW Issues Casting Call for 'Wonder Woman' TV Series
").
According to
The Hollywood Reporter
, the CW Network is indeed seriously considering a pilot order for the
Wonder Woman
project, which according to
THR
is "still in contention for the fall 2013-2014 season." The
Reporter's
source confirms that the network was unhappy with the script for the pilot episode and is waiting for a final version from Alan Heinberg, whose
Wonder Woman
graphic novel is the template for the new Amazon series. The fact that the CW is still holding open a slot for Amazon in its pilot slate certainly does testify to the importance that the project has for the network.
Given all the difficulties that NBC had getting a
Wonder Woman
show on the air (see "
NBC Dumps
'Wonder Woman'
"), the CW's decision to take the time to get it right may well prove to be ultimately beneficial to all concerned.