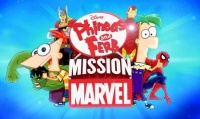 In the kind of high concept mash-up that some have feared and others eagerly awaited, Disney will bring Marvel characters into animated property Phineas and Ferb in the OAV
Phineas and Ferb: Mission Marvel
, to be shown on the Disney Channel this summer.
The animated feature will follow Spider-Man, Iron Man, Thor, and Hulk as they team up with Phineas and Ferb to battle villains Red Skull, Whiplash, Venom and M.O.D.O.K.
The trailer will be shown on Friday, June 7th in the new episode of the series.