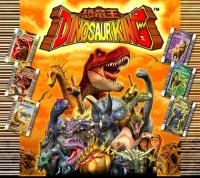 4Kids Entertainment plans on launching the Dinosaur King anime series during the 2007-2008 TV season on its 4Kids animated block, which airs on Saturday mornings on the Fox Network. Produced by Sunrise, the Dinosaur King anime is based on a popular card/arcade game hybrid produced by Sega. The Dinosaur King anime debuted on TV Asahi on February 4th. It is targeted at younger kids in the early grades, which makes it a 'kodomo' (kids) anime like Pokemon, Digimon, or Kirby Right Back at Ya, rather than a 'shonen' anime such as Yu-Gi-Oh!, Naruto, or Zatch Bell, which are aimed at an audience of older kids and tweens.
The 'kodomo' nature of the Dinosaur King anime means that 4Kids won't have to make that many content changes though as usual with 4Kids, the anime will be thoroughly 'Americanized.' The characters and the episodes have all been renamed, and the Japanese score has been removed and replaced with a snappy techno music track. In addition 4Kids has created a new opening song and will use an instrumental version of the new theme song for the end credits. FUNimation will release the 4Kids version of Dinosaur King on DVD.
Sega's Dinosaur King game uses very similar mechanics to the company's Mushiking (see 'Sega Plans Game-Based Anime') game, which combines elements of collectible card games and arcade games. As in the popular Mushiking game, players scan the barcodes on their cards into the game machines. The Dinosaur King game simply substitutes dinosaurs for beetles and adds another layer of complexity into gameplay by including six elements--fire, earth, wind, water, lightning, and grass -- that can influence the outcomes of the dinosaur combats.