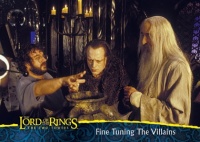 The Topps Company will be shipping its Lord of the Rings: The Two Towers Trading Cards in late October in plenty of time to make a November 6th street date. Since the film doesn't debut until December 18th, retailers will have a nice long window in which to sell the cards before the film opens. Topps' first series of LOTR cards were severely under-ordered by hobby retailers and sold out quickly, as did the LOTR Update cards, which came out this summer.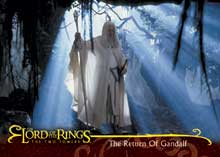 The Two Towers Trading Cards have 60 story cards, providing fans with a first look at many scenes from the new film. It is true that in today's market, it takes a special film to make movie trading cards work, but it is also true that the Lord of the Rings films are just the kind of genre-defining, blockbuster, 'event' pictures that do inspire fans to seek out and collect cards and other memorabilia.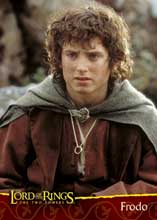 The foil-stamped Two Towers cards will come randomly packed in deluxe illustrated packs.

The 90-card series consists of 18 character cards, 11 behind-the-scenes cards, 1 checklist card and 60 story cards.

Ten foil chase cards will be randomly inserted throughout the run.

Topps also has arranged for autographed cards to be inserted at a ratio of at least one per every hobby box.

Signers include Billy Boyd, Cate Blanchett, Christopher Lee, Elijah Wood, Liv Tyler, Orlando Bloom, and Sean Astin.

And there's a new incentive for fans to buy The Two Towers cards -- director Peter Jackson, the man behind this superb adaptation of the classic Tolkien fantasy, is signing for Topps this time.