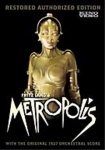 Kino International has announced a Feb. 18 DVD release for the restored version of Fritz Lang's science fiction classic Metropolis. The classic film from the 1920s has had a tremendous impact on subsequent visions of the future and was a profound influence on Osamu Tezuka, who created his own variant version of the story, which is available on DVD and in a new graphic novel series from Dark Horse (see 'Dark Horse Announces Metropolis TPB'). The restored version of Fritz Lang's film includes footage not seen since the 1920s, a newly recorded orchestral score, enhanced visuals, audio commentaries (in English, French, and German), a 43-minute documentary on the making of the film, production stills, missing scenes, production sketches, a restoration featurette and photo galleries. The Metropolis DVD has an MSRP of $29.95.
This is one science fiction classic that the mass market discounters will most likely ignore -- and one silent film that pop culture retailers can recommend to anyone who is interested in the history and development of the science fiction film.

Metropolis is a true classic and this release, which benefits from years of painstaking restoration of the original film, is as close to capturing the essence of this key science fiction title as we are ever likely to see.