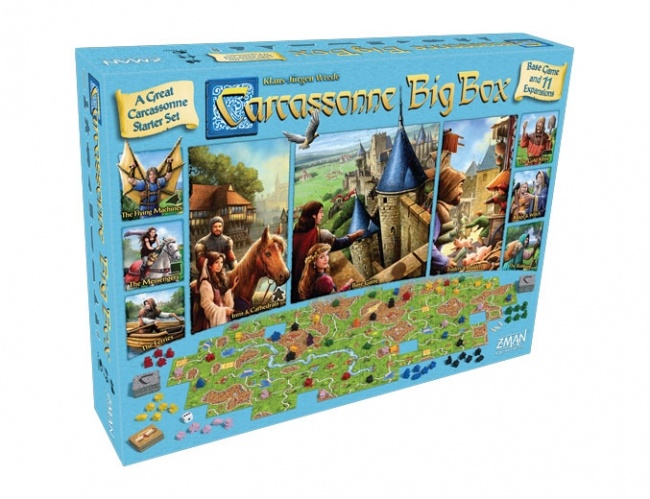 Z-Man Games is breathing new life into the 2001
Spiel des Jahres
winner
Carcassonne
with the 2017 version of the
Carcassonne Big Box
, available later this year.
The Carcassonne Big Box offers new players and existing fans the chance to acquire the basic game and 11 of what Z-Man has deemed the "essential" expansions published over the years. The expansions included in the Big Box are:
Inns & Cathedrals
Traders & Builders
The Abbot
The River
The Flying Machines
The Ferries
The Messengers
The Gold Mines
Mage & Witch
The Robbers
The Crop Circles
Players can mix and match the expansions to suite their tastes.

The set includes more than 150 tiles, plus the wooden pieces, dice, and other components needed to play with any or all of the expansions included. It is intended for 2 to 6 players, ages 7 and up, and games typically take less than an hour to play. MSRP is $79.99.
For those unfamiliar with Klaus Jurgen-Wrede's classic, Carcassonne is a Euro-style tile-laying game set in medieval France. Players use tiles to create the French countryside, placing their wooden "meeples" to claim farmlands, cities, and other features for points. The game was a huge hit, and has spawned numerous expansions and sequels over the years, include the circus-themed Carcassonne: Under the Big Top earlier this year (see " 'Carcassonne: Under the Big Top'"). The game continues to attract a following, and regularly appears on ICv2's top ten lists (see "Top 10 Hobby Channel Board Games--Spring 2017").