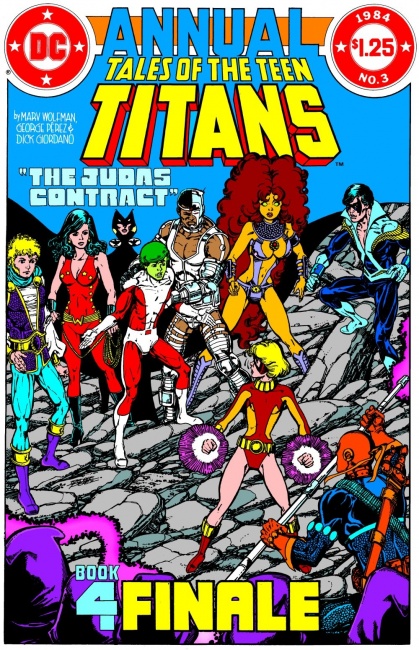 Marv Wolfman and George Perez's classic 1980s era Teen Titans storyline is getting a deluxe hardcover collection.
The New Teen Titans: The Judas Contract Deluxe Edition hardcover collects the definitive storyline in Wolfman and Perez's Teen Titans run, which also features art from Romeo Tanghal, Dick Giodano, Mike DeCarlo, and Adrienne Roy. The 200-page, full-color hardcover will be in stores January 31. MSRP is $29.99.
The story begins with the retirement of Robin and Kid Flash, and describes the capture of the Teen Titans after one of their own betrays the team. Along the way, readers are introduced to Jericho, and Nightwing becomes a major player in the DCU. The storyline was originally published in Tales of Teen Titans #42-44 and Tales of Teen Titans Annual #3 in 1984.
Earlier this year, Warner Bros. released a direct-to-consumer animated film of the storyline (see "DVD Round-Up: 'Teen Titans: The Judas Contract,' 'Split,' 'Killjoys,' 'Sailor Moon,' 'Ocean Waves,' & 'My Hero Academia'").