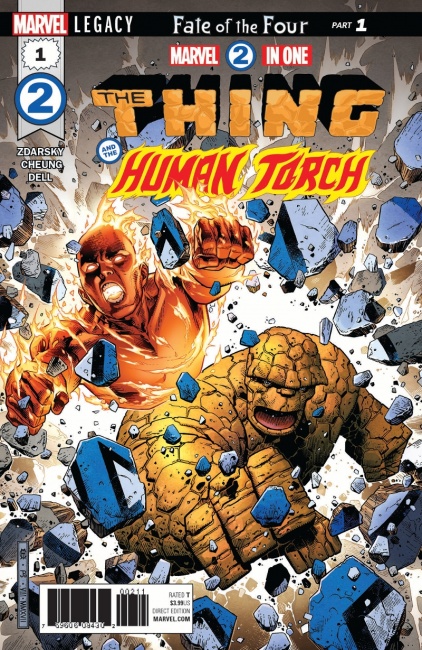 Marvel revealed five new
Marvel Legacy
series covers and creative teams.
Marvel Two-In-One: Fate of The Four Part 1
Written by Chip Zdarsky
Art by Jim Cheung
Black Bolt #8: The Midnight King Returns Part 1
Written by Saladin Ahmed
Art by Christian Ward
Hawkeye #13: Family Reunion Part 1
Written by Kelly Thompson
Art by Leonardo Romero
Weapon X #12: Nuke-Clear War Part 1
Written by Greg Pak
Art by Yildiray Cinar
Tales Of Suspense #100: Red Ledger Part 1 (Of 5)
Written by Matthew Rosenberg
Art by Travel Foreman
Marvel previously revealed that Legacy #1 will set up more than 50 series (see "'Legacy' #1 Will Lead into 53 Marvel Series") and has been rolling out reveals for the various Legacy series since early July (see "'Captain America,' 'Not Brand Echh,' 'Thanos,' 'Amazing Spider-Man'," "'Old Man Logan,' 'Darkhawk,' 'She-Hulk,' 'Secret Warriors'," "'Spider-Man / Deadpool,' 'Scarlet Spider,' 'Guardians Of The Galaxy,' 'Power Pack'," "Thor, Avengers, Cable Reveals for 'Marvel Legacy'," and "'Marvel Legacy' News Update").
Click the Gallery below for covers and renumbering charts.