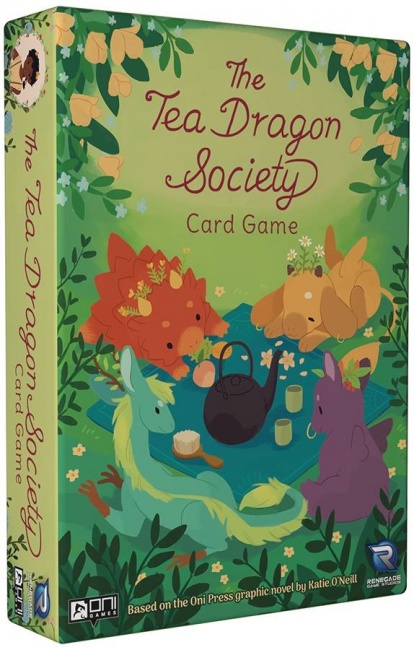 Renegade Game Studio has partnered with Oni Press to release
The Tea Dragon Society Card Game,
a deck building game based on the critically-acclaimed graphic novel by Katie O'Neill. Release is planned for late Q2.
Plans for the card game were announced ahead of the graphic novel's release last year (see "'The Tea Dragon Society Card Game'"). Designed by Steve Ellis (Trains: Rising Sun, Dicey Goblins) and Tyler Tinsley (Dicey Goblins), the game takes place in the enchanted world of the graphic novel. Players must bond with a Tea Dragon and create memories that can be shared forever. Each turn, players can draw a card, triggering effects and strengthening their position; or buy a card to improve their deck and score more points. The game takes place over four seasons. At the end of the last season, the player with the most points wins.
The box includes 4 Tea Dragon cards, 1 Mentor card, 24 Memory cards (6 cards each for spring, fall, winter, and summer), 28 Market cards, 48 Starter cards (12 cards each in 4 decks), a rulebook and a comic quick-start rules guide. The game is for 2 – 4 players, ages 10 and up, and plays in 30 – 60 minutes. MSRP is $20.00.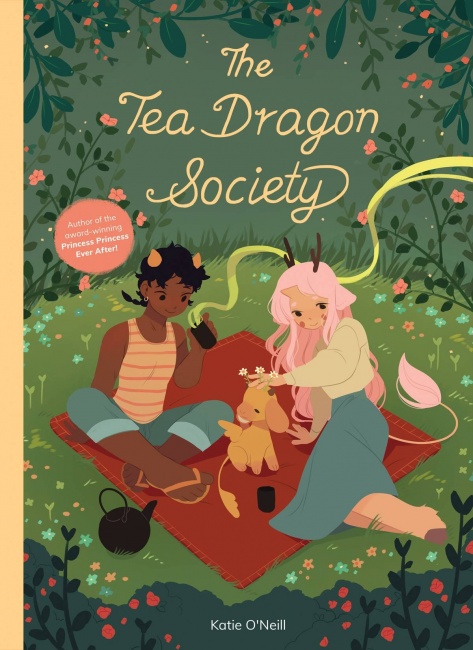 The Tea Dragon Society
was Oni Press's top selling non-licensed title of 2017, despite being released in Q4 (see "
Preview: 'The Tea Dragon Society' HC
"). The first print run of 9,000 copies sold out within the first month of release. The recent nominations for the Eisner Awards have only increased the graphic novel's profile (see "
The 2018 Eisner Award Nominees
"). It was also chosen for the shortlist for the Dwayne McDuffie Award (see "
Dwayne McDuffie Award for Kids' Comics Shortlist Announced
"), and appeared on Amazon's Best Graphic Novels list (see "
Amazon's Best Graphic Novels - 2017
").