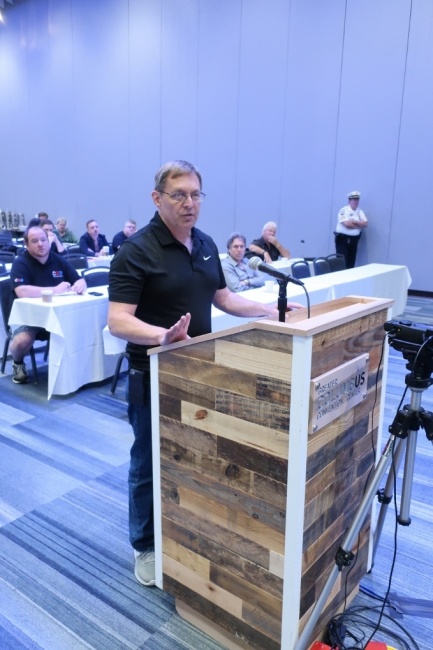 In a vote at the end of a five-hour GAMA Special Membership Meeting (see "
GAMA Board Calls Membership Meeting
"), Executive Director John Ward, whose contract was not renewed by the board of directors in a controversial "close" decision, received 65% "Yes" votes in a "vote of confidence" proposed by Director Emeritus Rick Loomis, vs. 35% "No" votes. The votes were taken by full voting members of the Game Manufacturers Association attending the meeting.
Although the board declined to make the vote count public, releasing only the percentage, the roll call at the beginning of the meeting revealed that 95 of the 188 voting members of the organization were in attendance, roughly 40 of whom were proxy votes assigned to someone that attended physically or electronically.
Before the vote, attorney Daniel E. Fisher of Louisville law firm Bingham, Greenebaum, and Doll, which advises the organization, explained to the membership that the vote was purely advisory and would not be binding on the board.
Regardless, the board promised to take the member comments and the vote under consideration. "I want to reassure all members that the board is taking into consideration all the feedback that we've received today and we'll reflect on them in the coming weeks," Brissaud said. "I want to tell everybody we heard you. And I'm glad that this meeting happened, because it was important for us, the board, to hear your feedback from the membership."
Asked from the floor when the board would take up the matter (with at least one member urging that it happen before the September 30 effective date of board member Mike Webb's resignation (see "
Mike Webb Resigns from the Board
"), Brissaud answered that the board had a four hour meeting planned "in the coming weeks."