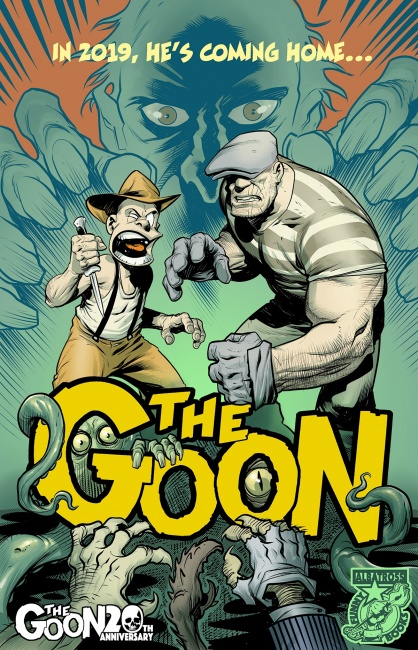 Eric Powell has announced a new series for
The Goon
, to be published by Powell's Albatross Funnybooks and bringing in new creators for the first time ever. The first issue of the new ongoing will be on sale in spring 2019, kicking off the 20th anniversary celebration of the character and the universe he inhabits and marking the first original
Goon
comics since Dark Horse published
The Goon: Once Upon a Hard Time
in 2015. Details on the creators who will be contributing are pending.
An amalgam of hard boiled noir, supernatural monster movies, and hard-drinking slapstick, The Goon debuted in 1999, first published by Avatar, followed by a short self-publishing stint via Albatross Funnybooks, then moving to Dark Horse in 2003. The property has inspired other media, including roleplaying games (see "Pinnacle Announces Dark Horse RPG 'Double Feature'"), and it's been courted for movie adaptations (see "'The Goon' Kickstarter Project Successful").
Powell resurrected Albatross Funnybooks imprint in 2016 to publish a sequel to his controversial mature readers comic Satan's Sodomy Baby and to release his monthly series Hillbilly (see "Eric Powell Resurrects Albatross Funny Books Imprint").