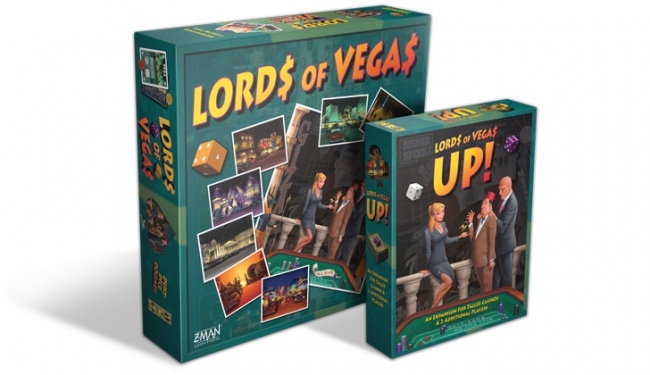 The real estate dice game
Lords of Vegas
is joining the catalog of Z-Man Games. The company is selling existing stocks of the Mayfair version of the game, and plans to produce a new Z-Man Games edition of the previously unpublished
Underworld
expansion.
Released in 2010, Lords of Vegas is a game about building and controlling casinos in Las Vegas during the postwar boom times, created by James Earnest and Mike Selinker (see "'Lords of Vegas'"). In 2014, the Up! expansion was released, allowing more players and taller casinos (see "'Lords of Vegas: Up!").
Asmodee Group acquired the game as part of its acquisition of rights when Mayfair was shuttered early this year (see "Asmodee Group Acquires Lookout, Publisher of 'Agricola,' and Mayfair Rights"). Z-Man Games has announced that the game will now be produced under its mark moving forward.
In addition, the company will publish the organized crime-themed Underworld expansion. Co-designer James Ernest described the expansion, "When Mike and I created Lords of Vegas, it had more of an organized crime theme… Underworld is our chance to reintroduce the mobsters who have always been part of the story of Las Vegas, using a new set of cards that add twists and turns (and loan sharks!) to the game."
Release dates and MSRP for the new expansion were not announced.
While supplies last, Z-Man will be selling the Mayfair Games version of the base game (for 2 to 4 players, ages 12 and up, MSRP $54.99) and the first expansion (for 2 to 6 players, MSRP $24.99).