The latest geek update has first photos, casting, pilot orders, directors, and a cancellation.
The first official image from HBO's new Watchmen series has hit the airwaves thanks to executive producer Damon Lindelof, who shared it via Instagram. The image is a bit of a puzzle, as it shows an individual in a police uniform whose face is mostly obscured by a bright yellow mask. So, while it's not one of the Watchmen readers are most familiar with, it does seem to be in line with the plans to take the series into new territory (see "'Walking Dead,' Daredevil' Trailer, 'Stargirl' Cast, 'Veronica Mars' Ordered"). Hollis Mason, the original Nite Owl who fought with Watchmen-predecessor the Minutemen, was a police officer, so many have concluded he's the subject of the photo. We'll know for certain if that's the case when show debuts sometime in 2019.
Gotham City has its Pennyworth leads. Jack Bannon (The Imitation Game) has signed on to play series lead Alfred Pennyworth, a 20-something former British SAS soldier who forms a security company and begins working for young billionaire (and future father of Bruce) Thomas Wayne during the 1960s. Wayne will be played by Ben Aldridge (Fleabag). Production on the 10-episode Epix series is set to begin October 22, and it will air in 2019 (see "Alfred Pennyworth Gets His TV Spotlight").
CBS has ordered a pilot based on DC Comics' Secret Six. The pilot will be written and executive produced by Rick Muirragui (Suits), with Doozer Productions and Warner Bros TV also on board for the project, according to Deadline. The announcement doesn't reveal which iteration of the Secret Six team will be the focus of the pilot. The team consists of six morally ambiguous individuals, recruited and led by a mysterious figure called Mockingbird.
Netflix's take on The Witcher has cast its women leads according to The Hollywood Reporter. Freya Allan (Into the Badlands) will play Ciri, the princess of Cintra. Anya Chalotra (Wanderlust) will play Yennefer, a sorceress and love interest for monster hunter Geralt of Rivia, played by Henry Cavill (see "'Swamp Thing' Director, Superman for 'The Witcher,' Tudyk Gets Villainous, DC Universe Launch Date, 'Castlevania' Poster, Disney OTT Price Tag"). The show, which is based on Andrzej Sapkowski's epic multi-volume fantasy series, also stars Jodhi May (Game of Thrones) as Queen Calanthe, Bjorn Hlynur Haraldsson (Fortitude) as Eist, Adam Levy (Snatch) as Mousesack, MyAnna Buring as Tissaia, Mimi Ndiweni and Therica Wilson-Read as novice sorcerers, and Millie Brady as Princess Renfri.
Disney's new Star Wars show, The Mandalorian, has assembled a bang-up roster of directors. Taika Waititi (Thor: Ragnarok), Bryce Dallas Howard (Jurassic World), Rick Famuyiwa (Dope), Deborah Chow (Jessica Jones, Fear the Walking Dead), and Dave Filoni (Star Wars: The Clone Wars) have signed on to direct for the eight episode series reports THR. Filoni will kick things off with the first episode. The series is executive produced by Jon Favreau, who recently revealed the show would be about a lone Mandalorian gunfighter in the vein of Jango and Boba Fett but not much else (see "Jon Favreau Reveals Details About New 'Star Wars' Series"). The show will air on Disney's over-the-top streaming service in 2019.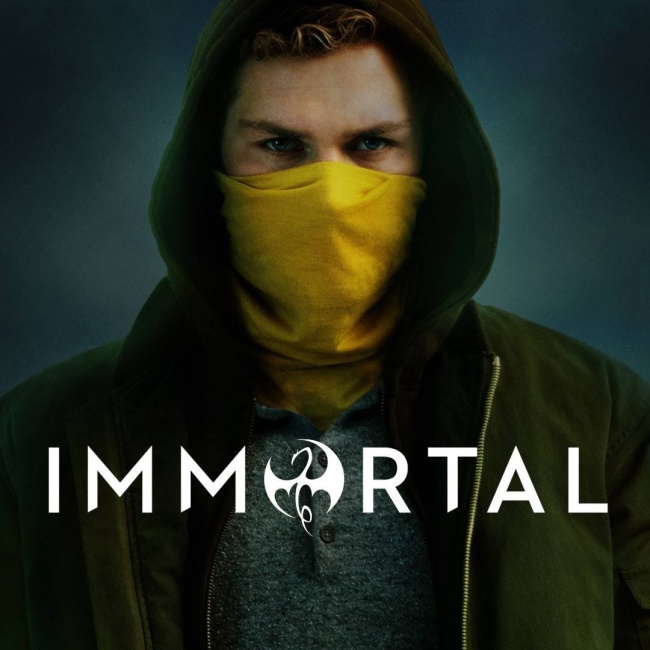 Despite a better-received second season, Netflix has decided not to reup
Marvel's Iron Fist
for a third solo outing. Marvel and Netflix did promise that "the immortal Iron Fist will live on" in a joint statement to
Deadline
. Danny Rand popped up on the second season of
Luke Cage
, and the property may live on via other platforms, among them Disney's pending OTT service, which already has series for Loki and the Scarlet Witch in the works (see "
Disney and Marvel Developing Original Series for OTT Service
"). The other Netflix-Marvel series don't appear to be headed anywhere, with the third season of
Daredevil
set to debut this week (see "
New Trailers for 'Deadly Class,' 'Good Omens,' 'American Gods,' and 'Marvel's Daredevil'
"), a second season of
The Punisher
(see "
First Casting for 'The Boys,' Two Series Extended, One Canceled
") and third season of
Jessica Jones
ordered (see "
More 'Jessica Jones'
"), and an order for a third season of
Luke Cage
expected any day now.