The latest geek TV news has Batman villains, Gelflings and Skeksis, the JSA, and much more.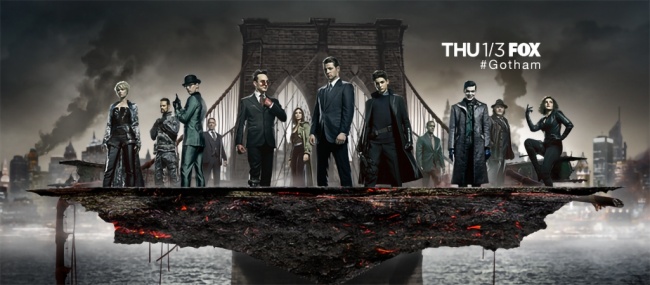 As the seasons have gone on, the characters of
Gotham
have looked more and more like their comic book counterparts, and based on the trailer for the fifth and final season of the show, most of them will come into their comic book own, with Bane, Harley Quinn, the Joker, and the rest of the Batman rogues gallery looking like they stepped off the comics page. Even young Bruce Wayne's black trench coat swings in the wind like a cape. The fifth season is set to debut on Fox on January 3.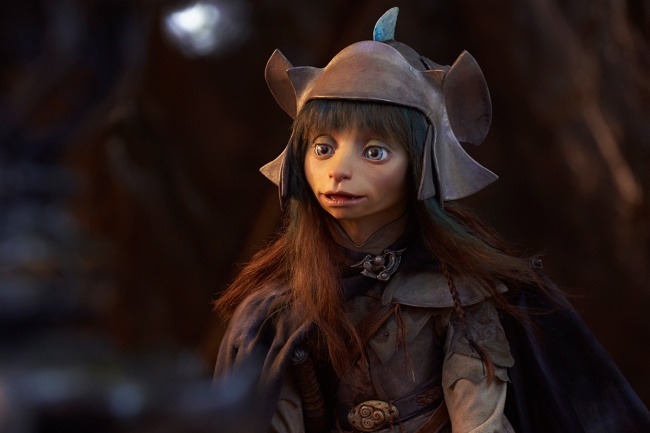 Netflix's
Dark Crystal
series is coming into shape, with the release of the first photos from the production and announcement of the star-studded voice cast. Taron Egerton (
Kingsman
series) leads the cast of
The Dark Crystal: Age of Resistance
as Gelfling Rian. He is joined by Anya Taylor Joy (
The Witch
,
Split
) as Brea and Nathalie Emmanuel (
Game of Thrones
) as Deet. Other Gelflings are voiced by Helena Bonham-Carter (
Harry Potter
series), Natalie Dormer (
Game of Thrones
), Eddie Izzard (
Ocean's Thirteen
), Theo James (
The Divergent
series), Toby Jones (
Tinker Tailor Soldier Spy
), Shazad Latif (
Star Trek: Discovery
), Gugu Mbatha-Raw (
The Cloverfield Paradox
), Mark Strong (
Kingsman
), Alicia Vikander (
Tomb Raider
), Caitriona Balfe (
Outlander
), and Harris Dickinson (
Maleficent 2
). Harvey Fierstein (
Torch Song
), Mark Hamill (
Star Wars
), Ralph Ineson (
Game of Thrones
), Jason Isaacs (
The OA
), Keegan-Michael Key (
Key and Peele
), Ólafur Darri Ólafsson (
True Detective
), Simon Pegg (
Mission Impossible
series), and Andy Samberg (
Brooklyn Nine Nine
) will voice Skeksis and Mystics. The 10-episode prequel to Jim Henson's classic film will air sometime in 2019 (see (see "
Netflix Plans 'Dark Crystal' Series
").
Two the Locke siblings in Neflix's Locke & Key series have been recast. Connor Jessup (Falling Skies) has been cast as eldest child Tyler Locke, and Emilia Jones (Utopia) will play only daughter Kinsey Locke reports Deadline. Jackson Robert Scott, who played youngest child Bode Locke in the Hulu pilot (see "Misty Knight's Bionic Arm; 'Heartthrob' Optioned; 'Locke & Key,' 'Titans,' 'Quantum and Woody' Casting"), is staying on for the Netflix take. Netflix took on the show when Hulu scrapped the project after filming a pilot (see "'GOT' Dates, 'Daybreak' on Netflix, 'Locke & Key' Series Order, Tom King Writing TV Series, 'Judge Dredd' Pilot, Lobo on 'Krypton'")
The Stargirl series on DC Universe has cast three more members of the Justice Society of America. Henry Thomas (Haunting of Hill House) will play founding member Dr. Charles McNider, a.k.a. Dr. Mid-Nite (via Entertainment Weekly). S.W.A.T.'s Lou Ferrigno Jr. has been cast as Hourman, a.k.a. Rex Tyler, and Brian Stapf (The Purge) will play Ted Grant, a.k.a. Wildcat (via TV Insider). They join Joel McHale, who plays Starman, and star Brec Bassinger (see "Joel McHale Is Starman") on the series, which will air sometime in 2019.
Distinctively-voiced filmmaker and actor Werner Herzog will have a role in Jon Favreau's The Mandalorian. Giancarlo Esposito (Breaking Bad), Emily Swallow (Supernatural), Carl Weathers (Predator), and Omid Abtahi (American Gods) will also have roles in the series, which stars Pedro Pascal (Game of Thrones, Narcos) in the title role, along with Gina Carano and Nick Nolte (see "Nick Nolte in 'The Mandalorian'"). Taika Waititi, Bryce Dallas Howard, Rick Famuyiwa, Deborah Chow, and Dave Filoni are directing episodes of the Star Wars spinoff, which will air on Disney+ (see "'Watchmen' First Look, 'Pennyworth' Cast, CBS Orders 'Secret Six' Pilot, 'The Witcher' Adds Leads, 'The Mandalorian' Directors").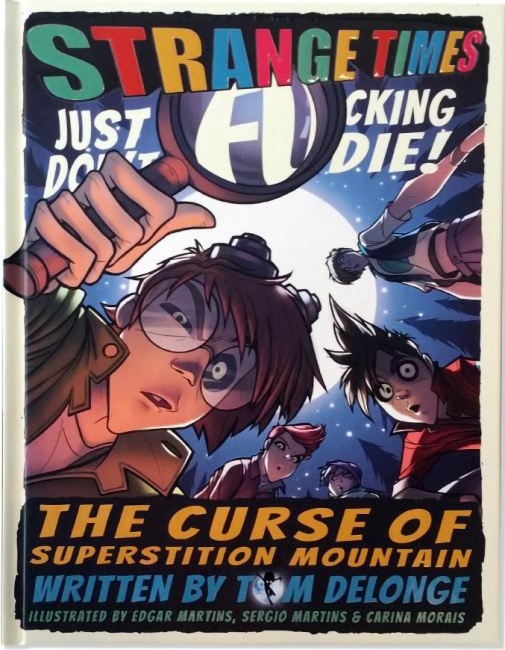 Tom DeLonge's
Strange Times
is in development for a potential adult animated series at TBS. The series about five teenage skateboarders who investigate paranormal mysteries while being chased by deep state government agents will be written and executive produced by Aaron Karo, with Delonge on board to executive produce reports
Deadline
.
Strange Times
began as a fringe news website before evolving into a graphic novel, merchandise, and YA novel trilogy.
Showtime's adaptation of Halo has stalled with the departure of director and executive producer Rupert Wyatt (Planet of the Apes). Wyatt has left due to changes in the production schedule, according to Deadline. The Amblin Television series has been in development for some time, originally with now-defunct Xbox Entertainment Studios. After four years of back and forth with filmmakers, Showtime greenlit 10 episodes in June (see "'Halo' Comes To Showtime"). Showtime is now looking for a new director with the intention to move forward.
Click on the Gallery for The Dark Crystal: Age of Resistance images.