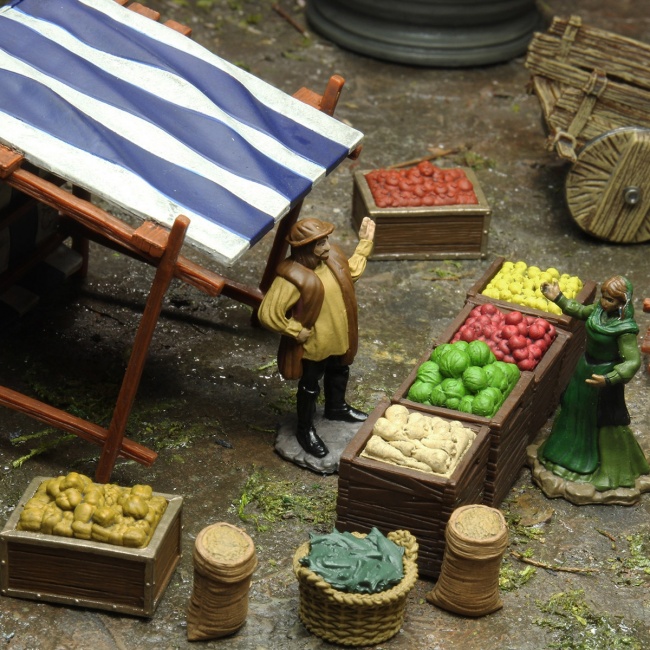 Fans of WizKids'
WarLock Tiles
modular terrain will be able to decorate their markets with the
WarLock Tiles: Accessory – Marketplace
set releasing in January.
The WarLock Tiles: Accessory – Marketplace offers a variety of set pieces representing items that one might encounter within a fantasy or medieval market, including a market stand, a well, a fountain, an executioner's tools, and crates with removable lids. The fountain includes translucent water effects, and many components feature swabable contents. A few denizens of a typical market are also included.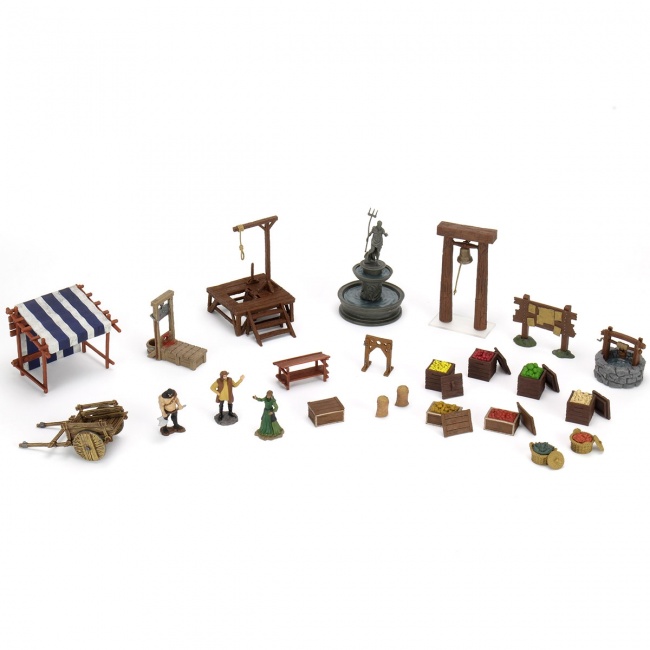 The 30 pieces in the set include 1 well, 1 fountain with statue, 1 bounty board, 1 stocks, 1 gallows, 1 guillotine, 1 two-wheeled cart, 1 market stall with canopy, 2 grain sacks, 2 wicker baskets with 1 basket of crabs and 1 basket of fish, 3 rectangular crates with 1 crate of pomegranates and 1 crate of quince, 4 square crates with 1 crate of parsnips, 1 crate of cabbages, 1 crate of lemons, and 1 crate of apples, 1 town bell, 1 executioner, 1 female merchant, and 1 male merchant. MSRP is $49.99.
Click Gallery below to see images of the miniatures.
January will also see the release of the Town Square terrain set (see "Build City Street Layouts with the Latest 'WarLock Tiles: Town and Village' Set"). In February, WizKids will release an oversized red dragon model (see "'Adult Red Dragon Premium Figure' Unleashes its Fury on 'D&D Icons of the Realms'") and a number of new hero models (see "More 'D&D Icons of the Realms' Hero Minis Coming").