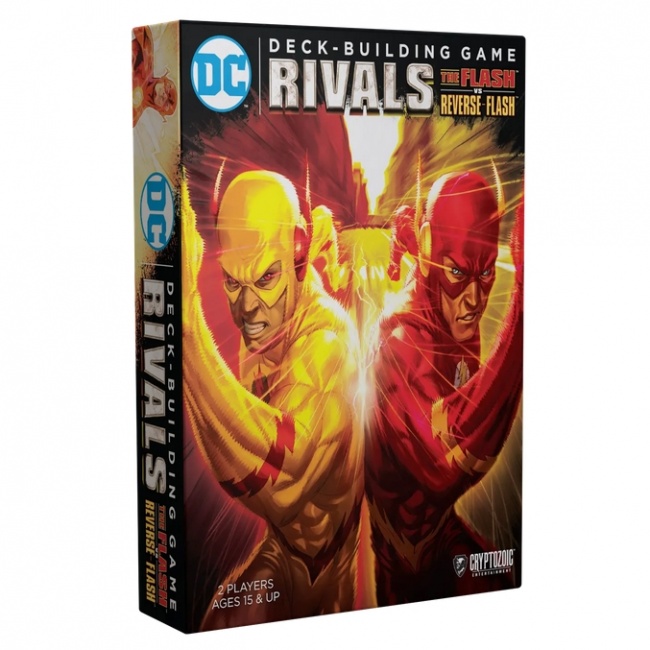 Cryptozoic Entertainment announced that it has pushed back the release dates of
The Flash vs. Reverse-Flash
and
Injustice
, for
DC Deck-Building Game
, which were originally planned to release in 2021, to 2022. They also mentioned that they had been working on a
Suicide Squad
expansion for
Rebirth
, which is now off the table.
The Flash vs. Reverse-Flash is part of Rivals line for DC Deck-Building Game. The goal of the game is for players to defeat three speedy versions of their opponent to win. Players have their own stack of three-character cards that have progressive costs, and both sides of the battle will need to be wary of Weakness cards that can help their opponent to defeat them.
Injustice is the next stand-alone set for DC Deck-Building Game. It is based on the Injustice: Gods Among Us video game and comic series (see "Confessions of a Comic Book Guy"), and features the Brawl mode style of play from Epic Spell Wars of the Battle Wizards: ANNIHILAGEDDON Deck-Building Game (see "Expansion for 'Epic Spell Wars'"). The Brawl mode was inserted into this game to give the tabletop game the feel of a competitive fighting video game.
Cryptozoic also mentioned that they were planning a new big box set for DC Deck-Building Game as well as an expansion to Dark Nights: Metal for 2023 (see "New Deets on 'DC Deck-Building Game: Dark Nights: Metal' Revealed").