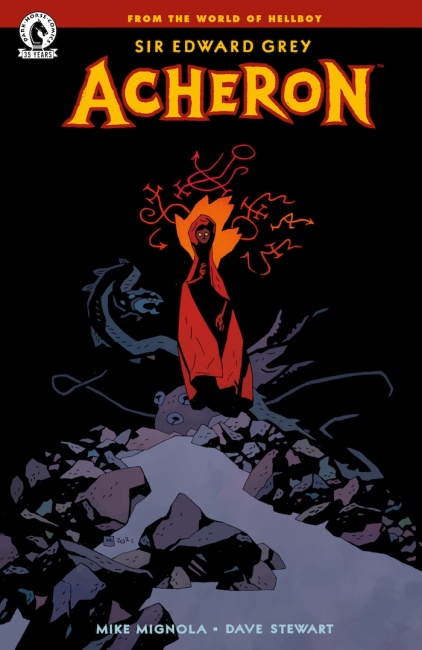 Hellboy creator Mike Mignola will return to his character's saga with
Sir Edward Grey: Acheron,
the first full-length comic that Mignola has both written and drawn in five years. The one-shot comic takes place after the events of
B.P.R.D.: The Devil You Know.
Edward Grey appeared in 2016's
Hellboy in Hell,
the last comic for which Mignola was both writer and artist; in the new comic, Hellboy is dead and the B.P.R.D. is in hiding, so the title character takes center stage. Dark Horse will publish the comic on December 1 with a main cover by Mignola and colorist Dave Stewart (who is also the colorist for the interior art) and a variant cover by frequent Hellboy artist Ben Stenbeck and Stewart.
Mignola has stayed active with a number of Hellboy projects, including co-writing a novel (see "Mike Mignola and Christopher Golden Do 'Hellboy: The Bones of Giants'") and the five-issue Hellboy and the B.P.R.D.: 1957 series (see "Dark Horse Plans Five 'B.P.R.D.' 1950s One-Shots") and creating the slipcase art for the latest Hellboy boxed set (see "Mike Mignola Provides Brand-New Slipcase Art for 'Hellboy Omnibus Collection Boxed Set'").
Click Gallery for main and variant covers!