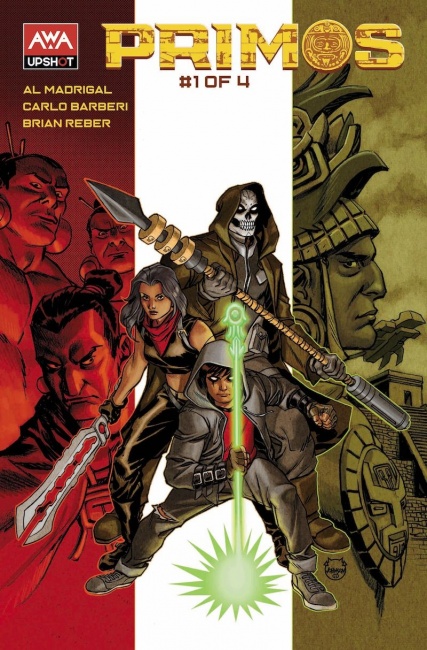 Actor and standup comic Al Madrigal will team up with artist Carlo Barberi to create a new superhero series,
Primos,
for the independent comics publisher AWA. The first of four issues will be released on February 2, 2022, in both Spanish and English.
The story starts with two Mayan brothers who build a rocketship and travel into space. When they return, centuries later, they learn that their entire civilization has been destroyed. One of the brothers is determined to avenge the loss by destroying the earth, and to stop him, the other brother calls on three descendants of his family to form a superpowered team to save the world.
Axel Alonso, AWA co-founder and Chief Creative Officer, said in the official announcement that the story has been in the works for a while. "Al and I have been wanting to work on a project together for some time where we could share our Mexican heritage with a broad audience and create the ultimate Latinx heroes for the 21st Century," he said. "Primos is the Latinx Guardians of the Galaxy; they squabble with each other, they assemble as a team, and ultimately save the universe."
Madrigal is an actor and standup comedian who will play an FBI agent in the upcoming Spider-Verse film Morbius, which will premiere in January 2022 (see "Sony Pushes Back 'Morbius'"). He has also appeared on The Daily Show and other late-night shows and co-starred in the film Night School. Barberi is a veteran comics artist whose work includes Spider-Geddon, Incredible Hulk, and Adventures of the Super Sons, and he is currently the artist for Spawn (see "Todd McFarlane Plans Comics Universe Built Around Spawn").
Click Gallery for covers and poster!