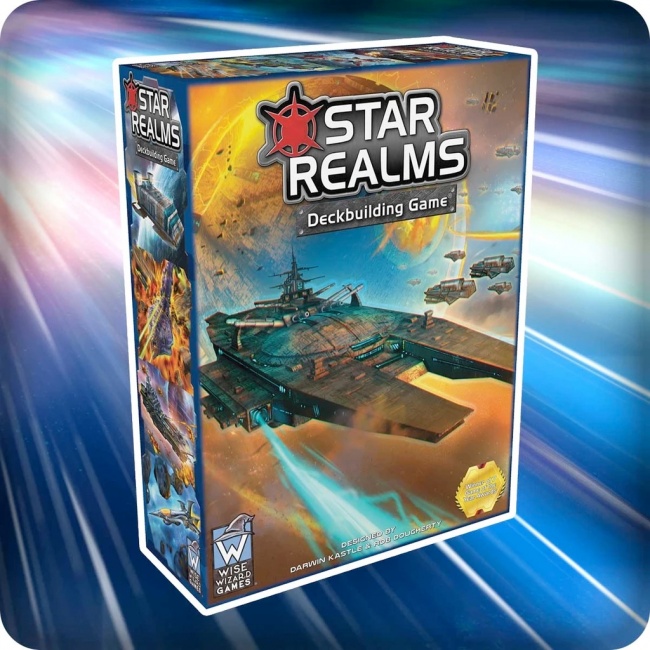 In December, Wise Wizards Games will be releasing the
Star Realms Box Set
, a complete game for two to four players that combines the
Core Set
and
Gambit Set
with a few extras.
The Star Realms Box Set combines the cards from the original Core Set released in 2014 (see "'Star Realms' Deck Building Game") and 2015's Gambit Set (see "Two New 'Star Realms' Expansions") to provide everything needed to play the game. In addition to the 152 game cards, the set will also include a folding game board to help players sort the cards, four sets of scoring cards, two oversized Challenge Cards, and a full-color rulebook. The Challenge Cards present The Pirates of the Dark Star and the Nemesis Beast, which allow the game to be played either solo or as a cooperative experience instead of a competitive one.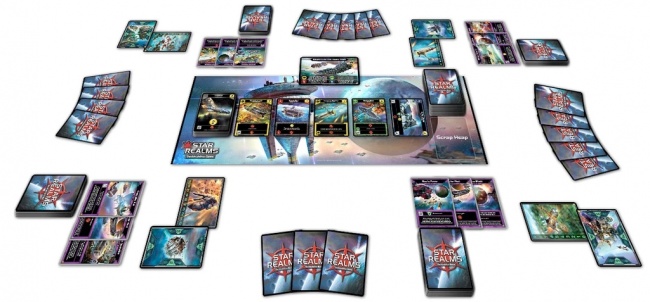 Star Realms
was created by Darwin Kastle and Rob Dougherty. In the game, players use their cards to acquire more powerful ships and bases for their individual decks through "trade," and use them to attack their opponent's ships and bases, trying to reduce their score to zero. The game has been a staple in the company's catalog, spawning a fantasy version called
Hero Realms
in 2016 (see "
'Hero Realms' Comes to Trade
").
Earlier this year, the company changed its name from White Wizard Games as it announced plans to expand its line (see "White Wizard Games Transforms into Wise Wizard Games").