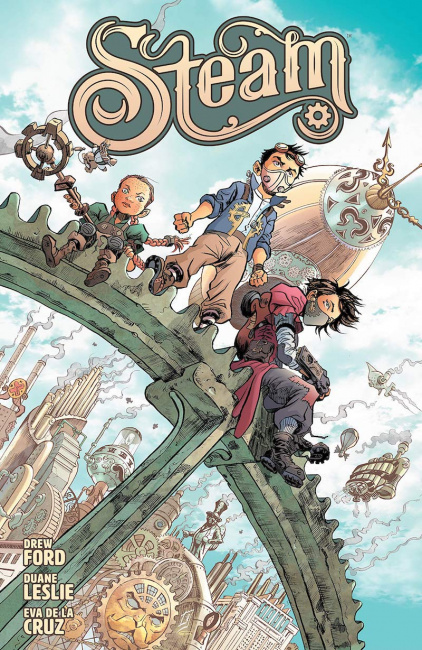 Drew Ford, the former editor of the Dover Comics imprint and the founder of the small press It's Alive!, died on October 2 at the age of 48.
The GoFundMe page set up by Ford's wife Aki Uesugi states that he died of COVID-related pneumonia. Ford's life insurance has lapsed, so the GoFundMe will go toward funeral expenses and to support Uesugi for the next few months.
Ford was a writer and editor who dedicated much of his career to publishing comics that otherwise would have been lost, first as the Acquisitions Editor for Dover Publications' graphic novel line and later as the publisher of It's Alive! (see "New Imprint 'It's Alive!' at IDW"). While working with Dover, he partnered with writer and artist Sam Glanzman to publish two collections of Glanzman's World War II stories, A Sailor's Story in 2015 and U.S.S. Stevens: The Collected Stories in 2016. When he started It's Alive!, Ford led off the new publisher with another Glanzman story, Red Range (written by Joe R. Lansdale), which was published in 2017, the year Glanzman died. Their final collaboration will be published by Dark Horse in 2023: The Lonely War of Capt. Willy Schultz, written by Will Franz with artwork by Glanzman and Wayne Vansant (see "'The Lonely War of Capt. Willy Schultz' Comes to Dark Horse").
At Dover, Ford's list of acquisitions included long-out-of-print gems such as Murder by Remote Control, by Janwillem van de Wetering and Paul Kirchner; The BOZZ Chronicles, by David Michelinie and Brett Blevins; and The Puma Blues,by Stephen Murphy and Michael Zulli. At It's Alive!, he continued in that vein, with titles such as Trina Robbins' adaptation of Sax Rohmer's Dope, but he also published newer titles, including Nick Cagnetti's Pink Lemonade.
It's Alive! was founded in 2016 as an imprint of IDW but went independent in 2019. Recently Dark Horse announced it would publish several It's Alive! titles, including Doug Moench's Aztec Ace (see "Dark Horse Travels Back in Time with 'Aztec Ace'"). Ford's model was to fund the books on Kickstarter before moving to wider publication. Not all the Kickstarters were successful, and sometimes Ford struggled to fulfill them; as his wife stated on the GoFundMe page, he did all the work himself, including packing and shipping the books by hand.
Ford, who had a Master of Fine Arts degree from Long Island University, C.W. Post Campus, began his own comics career in the 1990s, and his writing credits include Vampirotica #15 (Brainstorm Comics, 1996), Negative Burn #40 (Caliber, 1993) and Rib #1-5 (Caliber, 1997). He was the publisher and editor of Cosmic Waves, a short-lived sci-fi zine, and the first issue carried his comic "For the Good of One," written by Ford with art by Chris Eisert. His story "Guiding the Gifted: A Tale of Jesse Quick" appeared in JSA 80-Page Giant 2011 #1, and he was a special projects editor for Marvel Comics from 2013 to 2016. He is also the writer of the middle-grade graphic novel Steam, with art by Duane Leslie and coloring by Eva De La Cruz, which was published by Dark Horse in 2020.