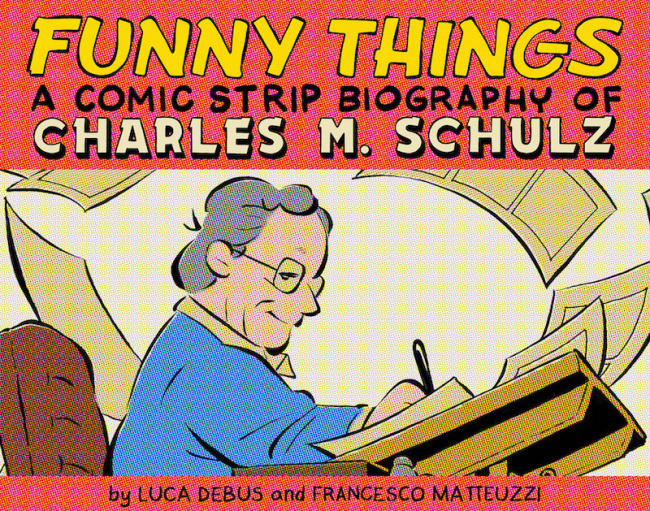 Just after the world celebrated the 100th birthday of
Peanuts
creator Charles Schulz, Top Shelf Productions has announced a new graphic novel depicting his life in comic strip format.
Funny things: A Comic Strip Biography of Charles M. Schulz,
by Luca Debus and Francesco Matteuzzi, will be published in August 2023 as a 440-page 8" x 6" landscape-format hardcover with an MSRP of $39.99.
The book is co-written by Debus and Matteuzzi and illustrated by Debus. Both creators are Italian, which testifies to the reach of Schulz's creation: Debus is a longtime Schulz fan and scholar who draws comic strips in a Peanuts-inspired style. In 2020, he ran a successful Kickstarter to fund The Importance of Being Earnest, a collection of comic strips based on Oscar Wilde's play. Matteuzzi is a journalist whose work in English includes graphic biographies of Hokusai (see "New Graphic Biography") and Banksy (see "Graphic Biographies of Banksy, Keith Haring").
Funny Things starts at the end of Schulz's career and tells the story of his life through flashbacks, all formatted like newspaper comic strips, both black and white dailies and full-color Sunday comics. "While Schulz was working on his last strip, looking back on five decades of Peanuts characters and situations, he laughed and said: 'I really drew some funny things,'" Matteuzzi said in a statement accompanying the announcement. "That phrase, Funny Things, stuck with me since I first read it: it's both accurate and a huge understatement of what he accomplished. So simple, and yet so powerful, just like the strips he left us which we will cherish forever."
Schulz died in 2000, and his final Peanuts comic ran the day after he died. However, his comic strips remain in print, in deluxe archival editions published by Fantagraphics Books (see "Fantagraphics to Reprint the Complete Peanuts") and inexpensive paperbacks from Titan Books and Andrews McMeel (see "Review: 'Charlie Brown and Friends: A Peanuts Collection' TP"). In addition, BOOM! Studios publishes original graphic novels based on the Peanuts characters (see "KaBOOM! Touts First 'Peanuts' Graphic Novel").
Click Gallery below for preview!