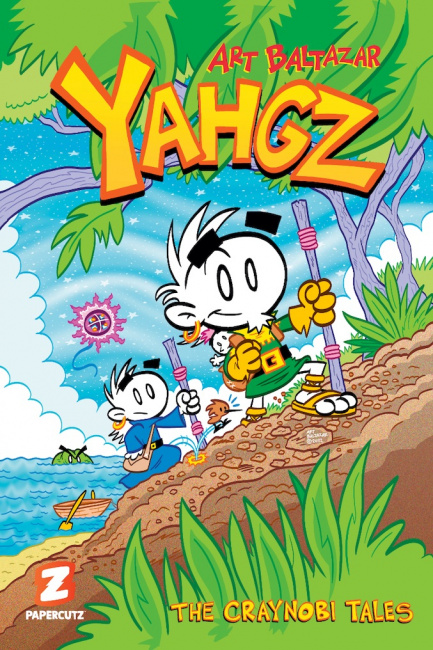 Papercutz has announced they will publish
Yahgz,
by
Tiny Titans
co-creator Art Baltazar, the first new project from the publisher since they were acquired by Mad Cave Studios (see "
Mad Cave Studios Acquires Papercutz
").
The whimsical story, which Baltazar said he has been toying with for 30 years, follows Craybi Craynobi and his son Crayski as they journey across their magic-filled land to rescue the Yahgz, members of a more vulnerable species from the Giant Green Gorilla and other menaces. The book is rated for readers ages 7-12 and will be released on August 1, 2023, with an MSRP of $14.99 for the hardcover edition and $9.99 for the paperback.
While Papercutz has continued to publish its existing licensed series, Yahgz is the first new original project to be announced since the Mad Cave acquisition.
Baltazar has authored another solo graphic novel series, Gillbert, which was also published by Papercutz (see "Preview: 'Gillbert'"), and Drew and Jot: Dueling Doodles from KaBOOM! He recently drew a new cover for the special edition of Superman #39 being published by ComicBooks For Kids (see "DC, ComicBooks for Kids Team Up for Special Edition of 'Superman' #39"), and he and longtime collaborator Franco Aureliani are the creators of the Eisner Award-winning Tiny Titans as well as Superman of Smallville, Itty-Bitty Hellboy, and numerous other all-ages titles based on the characters and tropes of classic comics. Baltazar and Aureliani are also co-founders, with Marc Hammond of the three-store chain Aw Yeah! Comics (see "Business 3x3: Marc Hammond at Aw Yeah Comics").
Click Gallery below for preview!