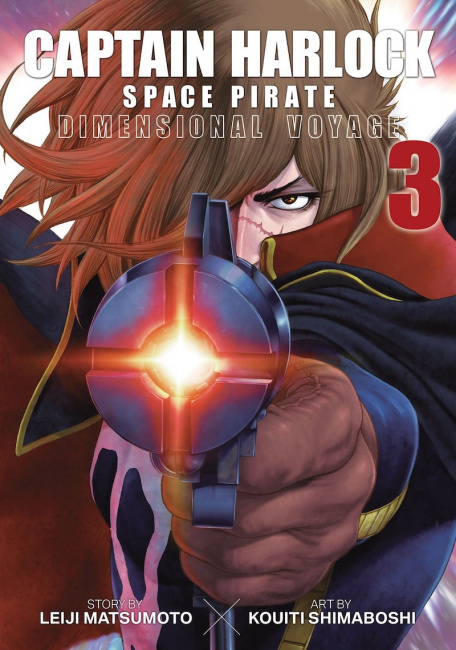 Manga and anime creator Leiji Matsumoto, whose body of work includes
Space Pirate Captain Harlock, Queen Emeraldas,
and
Galaxy Express 999,
died on February 13 in a Tokyo hospital at the age of 85. The cause of death was given as acute heart failure. He is survived by his wife, Miyako Maki, a manga artist who is prominent in Japan and sometimes collaborated with her husband.
Born Akira Matsumoto in 1938, Matsumoto grew up watching American cartoons on a projector given to him by his father and was also an avid science fiction fan from an early age. He broke into the manga business while still in high school with Michibachi no Boken (Honeybee's Adventure), which was published in 1953. After graduating, he moved to Tokyo and worked on a variety of manga, mostly shojo series, under various pseudonyms, finally settling on Leiji Matsumoto in 1965.
Matsumoto is best known to English-language readers for his space opera manga and anime, with many of the anime becoming available in English long before the manga. The most influential of these is Space Battleship Yamato (released in English as Star Blazers), which he directed. The series, which ran in 1974-75, was one of the first sci-fi anime to have the deeper themes and complicated storylines that would later characterize series such as Neon Genesis Evangelion.
Despite the popularity of the anime, Matsumoto's manga were slow to come out in English. Viz published part of the Galaxy Express 999 manga in 1999, and in 2015 Kodansha announced it would publish his Queen Emeraldas (see "'Queen Emeraldas,' 'Complex Age,' 'Forget Me Not'"). Seven Seas began publishing Matsumoto's backlist in 2017, starting with Captain Harlock: Dimensional Voyage (see "Seven Seas Adds Nearly Two Dozen New Titles"), followed by Captain Harlock: The Classic Collection (see "Harlock, Dragons, Kaiju, and Intergalactic War") and Space Battleship Yamato: The Classic Collection (see "'Space Battleship Yamato'"). In 2021 Ablaze announced a new Space Pirate Captain Harlock series that was created with Matsumoto's approval (see "Exclusive: Ablaze to Publish New 'Captain Harlock' Saga").
Matsumoto received numerous awards during his life, including the Japanese Order of the Rising Sun and the French Ordre des Arts et des Lettres.