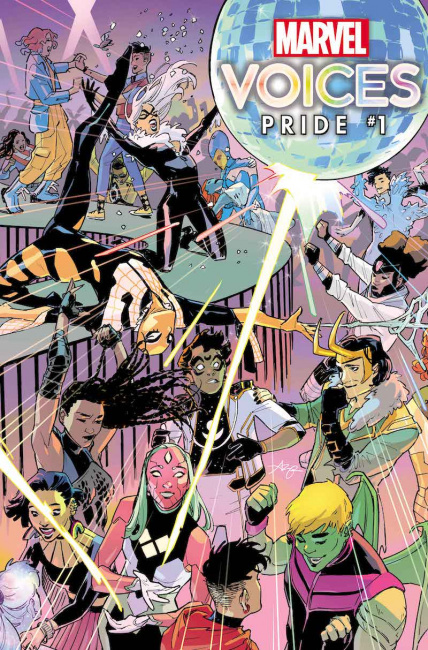 Marvel Comics unveiled its lineup for 2023's
Marvel's Voices: Pride
#1, its third annual one-shot spotlighting LGBTQ+ characters and creators. The comic will go on sale on June 14 with a cover by Amy Reeder and variants by P. Craig Russell, Phil Jimenez, and Jan Bazaldua.
The one-shot will include a story by writer Steve Foxe and artist Rosi Kampe featuring the character Gimmick, who was introduced in Vita Ayala's Children of the Atom in 2020; this story will lead in to an as-yet-unannounced X-Men title.
Also in the lineup:
A new hero takes on the identity of Nightshade in a story by Stephanie Phillips that is set in Chicago.
Black Cat encounters the Thieves Guild at New Orleans Pride in a piece by writer Sarah Gailey (Eat the Rich), making their Marvel Comics debut.
A new character makes their first appearance to offer some help to Wiccan and Hulkling when their vacation goes awry in the first Marvel story by Shadi Petosky, writer for Netflix's The Sandman.
YA author H.E. Edgmon introduces a new symbiote.
Marvel will also feature Pride-themed variant covers throughout the month of June.
2022's Marvel's Pride: Voices #1 introduced the trans character Escapade (see "New Trans Character to Debut in 'Marvel's Voices: Pride' #1").
Click Gallery below for covers!