CMON has revealed its
Metal Gear Solid: The Board Game
, scheduled to launch in May 2024.
Based on the video game from Konami Digital Entertainment, Metal Gear Solid: The Board Game is a scenario-driven, stealth-based board game of covert action in a science fiction setting, created by Emerson Matsuuchi (Specter Ops, the Century series). Up to four players undertake missions taken from the Metal Gear Solid storyline, using stealth and subterfuge to overcome a numerically superior foe in pursuit of their mission objectives.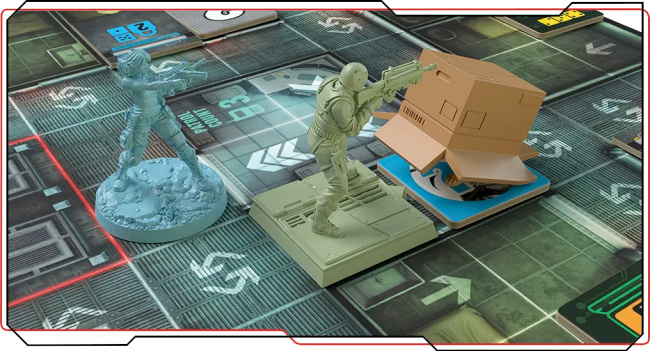 Each of the four playable characters has their own unique skills and playing style, and players can use many of the tricks and tactics featured in the video games, such as knocking on walls or hiding under boxes to trick the enemy.
The game features a 14-part campaign with both stealth missions and boss battles plus six "VR" side missions players can undertake to get gear to help with the main storyline.
Metal Gear Solid: The Board Game
will come with 24 plastic miniatures, 14 double-sided board tiles, 14 character dashboards, 176 cards, and 184 tokens. It is intended for 1 to 4 players, ages 14 and up. Scenarios will take a little over an hour to play. MSRP is $110.00.
Click Gallery below to see components from the game.
CMON is also offering a pre-order-only Integral Edition of the game that will add an exclusive 109-page graphic novel and 13 cm tall Metal Gear Rex model to the components in the retail version of the game, at a retail price of $100.00.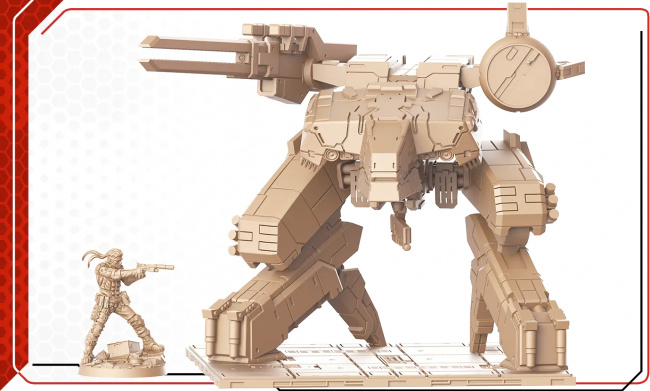 Matsuuchi had been working with IDW Games on
Metal Gear Solid: The Board Game
in 2019 before the project was cancelled (see
"'Metal Gear Solid' Board Game Details Revealed
").
Other licensed-IP games recently announced by CMON include a Teenage Mutant Ninja Turtles expansion for Zombicide: White Death (see "The Teenage Mutant Ninja Turtles Join 'Zombicide: White Death' Kickstarter"), a Masters of the Universe game (see "CMON's 'Masters of the Universe' Board Game Heads to Retail"), and a Stranger Things game (see "Shut Down Hawkins National Laboratory in 'Stranger Things: Upside Down'").