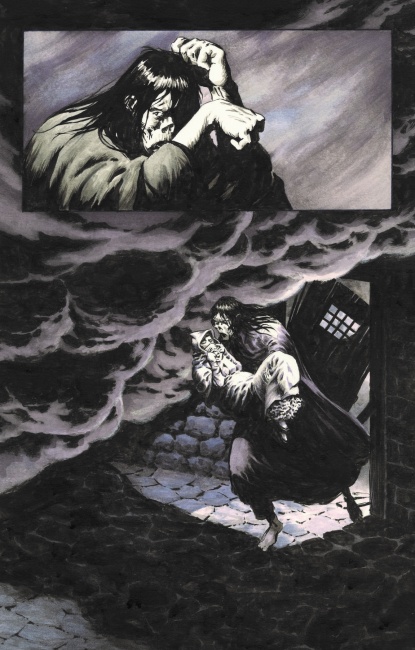 IDW Publishing will release the finial issue of Bernie Wrightson and Steve Niles'
Frankenstein, Alive, Alive!
on January 17. A 3 -in- 1 issue of the first three issues will also be released on January 3.
Wrightson announced he was retiring due to health problems in January, and died in March (see "R.I.P. Bernie Wrightson"). IDW began publishing Wrightson's sequel to his 1983 landmark illustrated version of Mary Shelley's Frankenstein in 2012 (see "Niles-Wrightson and John Byrne"). Frankenstein Alive, Alive! paired the master horror illustrator with Steve Niles to explore the further adventures of the monster for a planned four issue series. Before his death, Wrightson has completed several pages and laid out the fourth issue. Artist Kelley Jones (Batman: Gotham After Midnight, Sandman, The Hammer) agreed to step in to work from his layouts to finish the issue after Wrightson requested him.
"When Bernie realized he wouldn't be able to complete the series we began discussing his options, and his first choice was to have Kelley jump in," said Liz Wrightson. "Bernie felt that Kelley's style would mesh with his own seamlessly, and it was important to him that the arc be finished and that all four issues form a visually coherent whole. He'd have been so gratified to see this issue published at last."
IDW will also be releasing the Frankenstein, Alive! Trio, a 64-page collection of issues 1, 2 and 3, two weeks ahead of the Issue #4 release, to entice new readers to pick up the series. MSRP is $7.99.
IDW will include a tribute to Wrightson in its 200-page hardcover magazine Full Bleed: The Comics and Culture Quarterly magazine due in December (see "IDW's Woodworks Imprint Kicks Hardcover Magazine"). IDW will also be releasing the 176-page trade paperback art book The Monstrous Collection by Steve Niles & Bernie Wrightson on December 27.