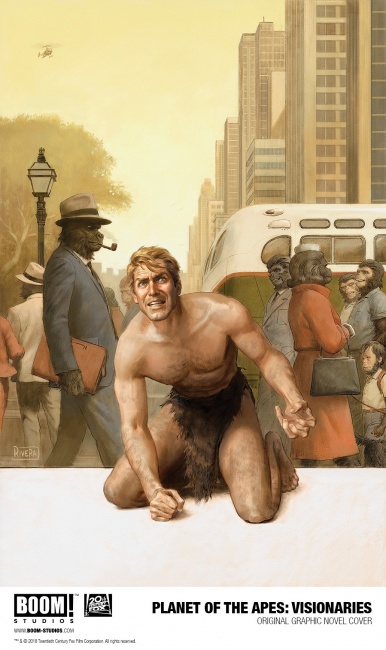 The very first screenplay for
Planet of the Apes
, written by
The Twilight Zone
's Rod Serling, is coming to comics. BOOM! Studios and 20th Century Fox Consumer Products are partnering on
Planet of the Apes: Visionaries
, an OGN adaptation of Serling's screenplay by Dana Gould (
The Simpsons
) and Chad Lewis (
Avengers Origins
). The book will be in stores in August. Paolo Rivera (
Daredevil
) provides the cover.
Sterling's screenplay is radically different from the 1968 film based on Pierre Boulle's French novel
La Planete des singes
. Instead of the primitive Ape City depicted in the film, Serling imagined an erudite modern metropolis populated by well-dressed apes.
The release is part of BOOM! Studios' year-long celebration of the 50th anniversary of the landmark film. The
Planet of the Apes
franchise has been fertile territory for BOOM!, which has released new comics (see "
'War for POTA' Prequel Comic Series
"), collections (see "
Classic 1970s 'Terror on the POTA' Returns
"), and crossovers (see "
Cinematic Apes Go Bananas in New Boom! Crossover
," "
Take Your Stinking Paws Off My Crossover
," "
'Tarzan on POTA,' 'Predator Vs. Judge Dredd Vs. Aliens'
") featuring characters from the
Planet of the Apes
cinematic universe.