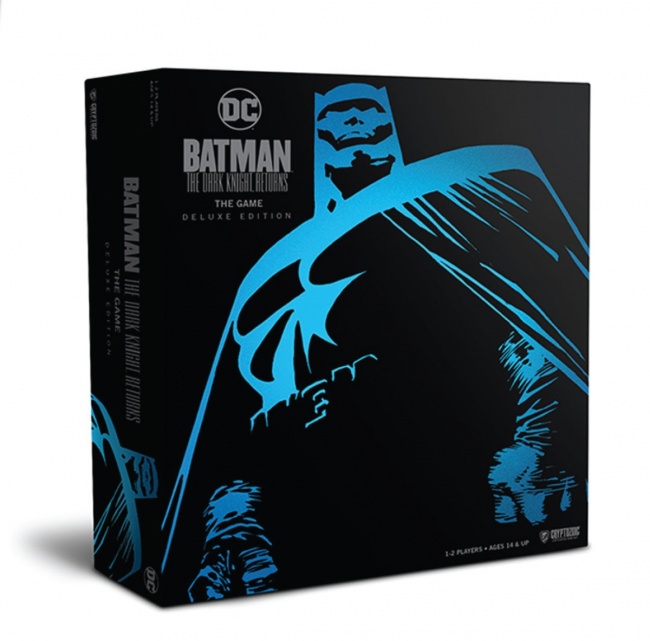 Cryptozoic Entertainment has released details about the launch of
Batman: The Dark Knight Returns – The Game
and the
DC Deck-Building Game: Crossover Collection 1
, both releasing in the first quarter next year.
Announced last year (see "Cryptozoic Entertainment Releases New Info About 'Batman: The Dark Knight Returns Board Game'"), Batman: The Dark Knight Returns – The Game brings the Frank Millar comic book series to the tabletop. Batman leaves retirement to face mutants, corrupt cops, and the press as well as iconic villains like Two-Face and the Joker. The game features four "Books," each with different rules and villains, which can be played on their own or as a campaign. It also offers three difficulty levels, and can be played solo or one-on-one.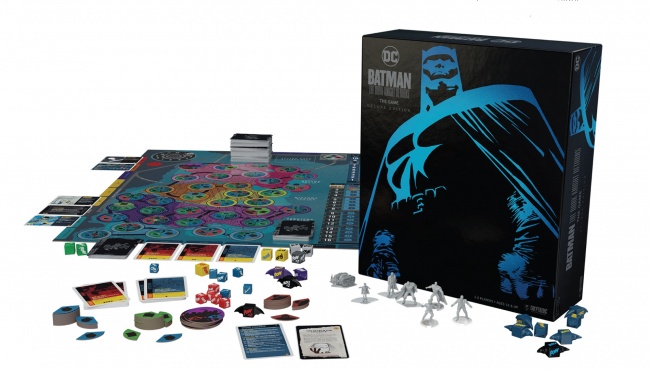 Two versions of the game will be offered: a regular and a
Deluxe Edition
. Both games include more than 200 cards, a game board, 160 tokens, 21 standees with bases, 1 dry erase marker, 11 Batarang dice and 35 other dice, and the 4 Books. The
Deluxe Edition
adds 17 plastic miniatures.
Batman: The Dark Knight Returns – The Game
is intended for 1 or 2 players, ages 14 and up, and each scenario takes about 90 minutes to play. MSRP is $64.99 for the standard version and $109.99 for the
Deluxe Edition
.
Cryptozoic raised funding for the production through a Kickstarter campaign last February that attracted 4,131 backers to pledge $398,775 to the project (an average of $96.53 per backer). The game will be released into the trade in January following backer fulfillment.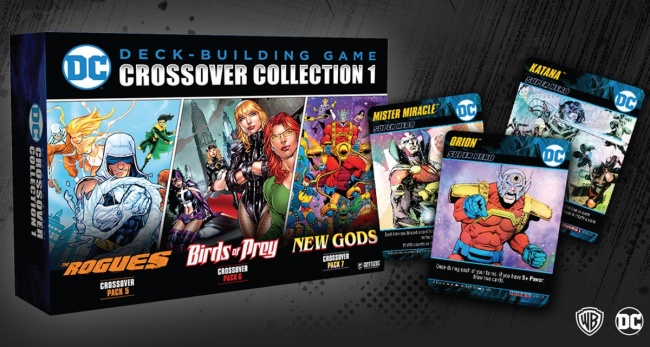 The
DC Deck-Building Game: Crossover Collection 1
collects three
Crossover Packs
into a single box, featuring
Crossover Pack 5: The Rogues
,
Crossover Pack 6: Birds of Prey
, and
Crossover Pack 7: The New Gods
(see "
DC Comics Deck-Building Game Expands with 'Rogues,'
" "
Cryptozoic Doubles Down on DC
," and "
New Gods Join 'DC Deck-Building Game'
"). Each of the three sets included add new heroes and villains to the game as well as new mechanics, with a total of 95 game cards and 18 foil character cards. A Black Racer promo card is also included. MSRP is $29.99.
Cryptozoic has pushed back the release date for The Flash vs. Reverse Flash and Injustice sets until next year (see "Cryptozoic Pushes Two 'DC Deck-Building Game' Releases").