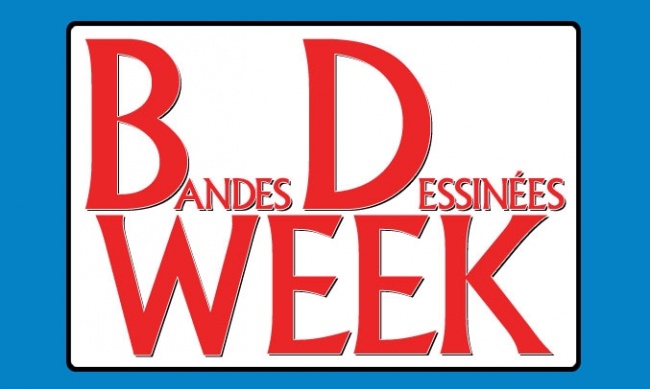 An ICv2 Release.
ICv2 has kicked off its second annual BD (
Bandes Dessinees
) Week celebration, focused on the growing market for the category in North America.
Bandes dessinees
is the French phrase meaning comics (like manga means comics in Japanese), and "BD" is frequently used here in the U.S. when speaking of the category.
ICv2, in cooperation with its sponsor publishers, is using this week to focus on BD in North America and to look at both the overall market and trends, as well as drill down with previews and news on individual titles or series.
"Since our first BD Week a year ago, the interest in the category has only grown," ICv2 CEO Milton Griepp said of the event. "It deserves a week where we publish previews, news, and special reports focusing on BD to help our readers learn more about this sales hot spot."
We're grateful for the support of our sponsors for BD Week:
Dark Horse Comics
IDW Publishing
BOOM! Studios
Lion Forge
Please support them by clicking on their ads to learn more about their BD initiatives.

A total of 220 different French volumes were licensed to the U.S. in 2016, French Comics Association President Jean Paciulli told the New York Comic Con Insider Sessions Powered by ICv2 (see "NYCC Insider Sessions Powered by ICv2: What the French Know").

Paciulli told the Insider Sessions that the French market was around €451 million, or $532 million at today's exchange rate. That puts it at around half the total U.S./Canada market for comics and graphic novels, with less than a fifth of the population. Another way of stating it is that French consumers spend over 2.5 times as much on comics as American consumers.

French publishers have been working hard to expand their sales in the U.S. in recent years, using entities such as Europe Comics (see "European Union, Publishers Launch 'Europe Comics'") or the French Comics Association to support their efforts with author/artist appearances and other initiatives.

Articles on the business of BD this week include:

NYCC Insider Sessions Powered by ICv2: What the French Know
Humanoids Early 2018 Lineup
BD by Ruillier, Castree in D&Q's Spring List
BD from David B., Goetzinger, Osuch & Martin, Segrelles
Lewis Trondhiem's Space Opera BD Crosses the Atlantic
Titan and Statix Press Explore the Afterlife

Confessions of a Comic Book Guy - Straight Out of Europe

Preview: 'Brazen: Rebel Ladies Who Rocked the World' TP
Exclusive Preview: 'Death to the Tsar' HC
Exclusive Preview: 'Lone Sloane: Gail' HC
Exclusive Preview: 'POS' HC
Exclusive Preview: 'Moebius Library: Inside Moebius Part 1' HC
Exclusive Preview: 'The Complete Okko' TP
Preview: 'Doctor Radar' #1
Preview: 'Under: Scourge of the Sewer' #1

Review: 'The Mercenary Vol. 1: The Cult of the Sacred Fire' HC
Review: 'Satania' HC

Check back here throughout the week for more on what's happening in this expanding segment of the graphic novel market.
If you have news on BD we should be covering, please send us a tip at Tips@ICv2.com.
If you've got a comment on what's happening in BD, please send it to Comments@ICv2.com.