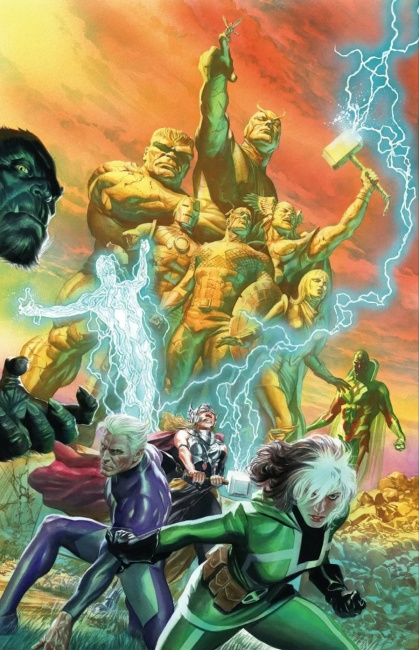 In January, Marvel is distilling three of their monthly Avengers titles into one weekly series. According to
Newsarama
, Marvel revealed the consolidation in their relaunched print-only fan magazine
FOOM
(see "
Launch Party for 'Marvel Legacy' #1
"). Marvel is making the move as part of the
Legacy
initiative, starting with
Avengers
#675: "No Surrender." For at least the duration of the "No Surrender" storyline, Marvel is discontinuing
U.S.Avengers
and
Uncanny Avengers
, and
Avengers
will run weekly. Marvel didn't reveal whether
Avengers
would remain weekly or if the discontinued series will resume at the end of "No Surrender."
The three-month run of "No Surrender" is being written by Mark Waid (Avengers), Al Ewing (U.S.Avengers), and Jim Zub (Uncanny Avengers). Pepe Larraz (Uncanny Avengers) will draw the first month's issues. Kim Jacinto (Uncanny Avengers) takes over pencils for the second month, and Paco Medina (U.S.Avengers) wraps up the series during the third month. The first issue is scheduled to hit stands on January 10.
Marvel has been rolling out reveals for the various Legacy series since early July (see "'Squirrel Girl,' 'Ms. Marvel,' 'Generation X'," "'Weapon X,' 'Tales Of Suspense,' 'Black Bolt,' 'Hawkeye'," "'Captain America,' 'Not Brand Echh,' 'Thanos,' 'Amazing Spider-Man'," "'Old Man Logan,' 'Darkhawk,' 'She-Hulk,' 'Secret Warriors'," "'Spider-Man / Deadpool,' 'Scarlet Spider,' 'Guardians Of The Galaxy,' 'Power Pack'," "Thor, Avengers, Cable Reveals for 'Marvel Legacy'," and "'Marvel Legacy' News Update").
Marvel also announced the return of the original Jean Grey as part of the Legacy initiative (see "Marvel Resurrects Jean Grey").