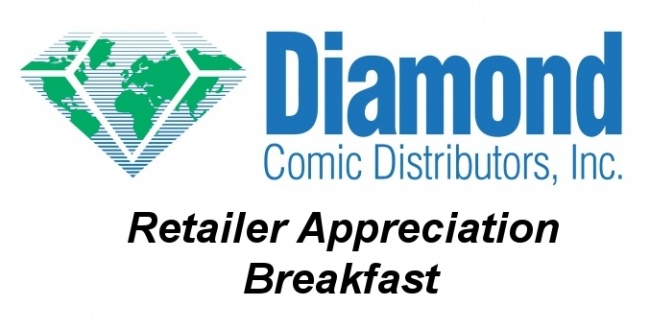 Just ahead of New York Comic Con, Diamond Comic Distributors and a parade of publishers briefed retailers on what's coming for fall at the Diamond's Retailer Appreciation Breakfast. DC Comics' presentation focused on the upcoming
Doomsday Clock
series, while most of the other publishers went over recent announcements, but there were a few bits of news during the two-hour presentation.
Diamond Comic Distributors News:
In addition to pitching Halloween Comic Fest (see "
Halloween Comicfest Goodies Announced
"), Diamond revealed that 25% of retailers in the U.S. and Canada were using POS software—Diamond's and others—accounting for about 50% of the volume in the direct market. They also said they will soon be able to allow retailers to make ACH payments, and retailers who are interested can sign up now during the testing phase of the program. And finally they announced their Fall 2017 Best Practice Awards:
Best School/Library Event: Happy Harbor, Edmonton, Alberta
Best Facebook Page: Dragon's Lair, Austin Texas
Best Store-Within-Store Concept: Gods & Monsters, Orlando, FL
Best Graphic Novel Section: Time Warp Comics & Games in Boulder, CO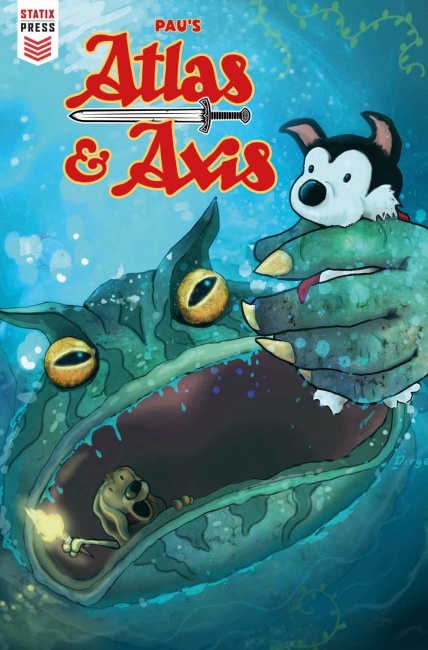 New Titles from Titan Comics:
Titan Comics kicked off the publisher presentations by announcing a new title in their Statix Press imprint (see "
Titan Gets Global with Statix Press
"):
Atlas & Axis
, a talking-animals comic about two dogs, one cool and one hot-blooded, who set out to rescue their friends and family after their village is destroyed by Vikings. The first issue, with a new cover by Roman Dirge, will be solicited in the November
Previews
catalogue. Titan Comics will release a trade paperback edition of
The Death of Stalin
with a cover that ties in to the movie, and they have also licensed
Death to the Tsar,
from the same creative team.
Dark Horse Comics Doubles Down:
In addition to its pre-show announcements (see "
Dark Horse: More 'Avatar' and Nintendo 'Arms'
"), Dark Horse Comics revealed that Gerard Way and Gabriel Ba's final story arc of
Umbrella Academy
will launch in late 2018. Netflix is currently adapting the series for television (see "
Gerard Way's 'The Umbrella Academy' Comes to Netflix
").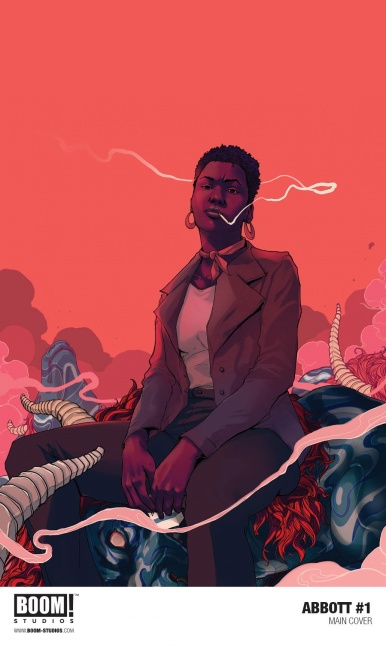 Lovers and Fighters from BOOM! Studios:
BOOM! Studios President of Publishing and Marketing Filip Sablik announced that
WWE
#14 would launch a new story arc featuring the Women's Revolution, and he teased a new series by
Black Bolt
writer Saladin Ahmed. Later that day, BOOM! announced Ahmed's series would be
Abbott,
a supernatural noir story set in Detroit in the 1970s. Sablik also told the audience to be on the lookout for the new series
Fence,
saying "This series about competitive men's fencing will draw fans of
Check Please
and
Yuri on Ice,
and if you are not familiar with these, I encourage you to Google them or ask a Valkyrie."
Many Happy Returns:
Several of the publishers were offering at least some comics on a returnable basis:
Orders of 25 copies or more of Titan Comics' new Assassins Creed: Origins series will be fully returnable;
Valiant Entertaiment's Ninja-K #1, will be fully returnable, and retailers will receive the maximum 57.5% discount no matter how many copies they order;
Dark Horse Comics stated that issues #1 and #2 of the first four Berger Books miniseries will be fully returnable (see "Dark Horse Details First 'Berger Books' Releases");
Filip Sablik reminded retailers of the BOOM! Studios "Guarantee" program, which allows retailers to order six titles per month on a returnable basis; the program started out with issue #1s but now includes second issues as well (see "BOOM! Offers Retailers 'Guarantee' Program").
Sparks Fly at Marvel Event: At the Marvel Retailer Panel that followed Diamond's event, a retailer complained during the Q&A session about recent changes to Marvel characters, including making Captain America African-American, Thor female, and Iceman gay. A few audience members applauded his comments, but others booed. Senior editor Nick Lowe tried to push back a bit, pointing out that character changes are nothing new and that Thor was turned into a frog at one point, but after another retailer stood up and began to echo the first speaker's comments, Marvel shut down the panel.