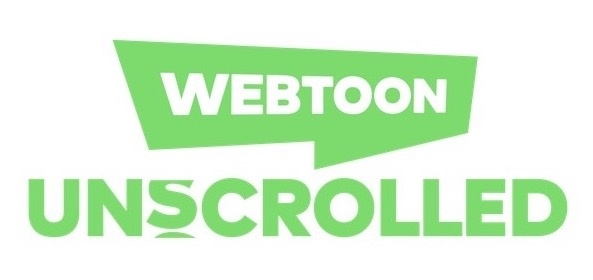 The webcomics platform Webtoon is going to print with a new graphic novel imprint, Webtoon Unscrolled, that will be part of the Wattpad Webtoon Book Group. The creator-owned graphic novels will span a variety of genres for both adults and children, with the first six titles scheduled for fall 2022 release. Distribution will be through Macmillan and Diamond Comics Distributors, according to Ashleigh Gardner, SVP, Publishing, Wattpad WEBTOON Studios (see "
ICv2 Interview: Ashleigh Gardner
").
Executive Editor Bobbie Chase will head up the new imprint; Chase was Vice President of Global Publishing Initiatives & Digital Strategy at DC Comics, where she launched the publisher's YA and middle-grade graphic novel program (see "DC Zoom and DC Ink"). When Webtoon announced last August that it would be publishing comics featuring DC characters, former DC editor Arune Singh credited Chase for her work on the program (see "DC Universe Characters Are Coming to Webtoon").
Gardner told ICv2 the graphic novels will be published in a 6" x 9" format. "We're always looking for the best format to help creators and their stories to find new fans, so we'll plan for hardcovers on a case by case basis," she said. "We know this is an appealing format for the library market, which is an important one for us." Trade dress will include a logo and wordmark.
The imprint will launch with six titles:
Tower of God, by SIU, a webtoon that originated in Korea. The story centers on a tower where people can get what they most desire; when a woman named Rachel decides to make the risky climb up the tower, her best friend Bam decides to follow her in hopes of seeing her again. The series has over 3 million subscribers on Webtoon, and Webtoon and Crunchyroll have co-produced an anime adaptation that is available on Crunchyroll and HBO Max.
True Beauty, by Yaongyi, is another Korean webtoon that has racked up over 6.5 million subscribers on the platform. The story follows a high school student who goes from frumpy to fabulous after she learns how to use makeup from YouTube tutorials. Her new look brings her new popularity, but she worries whether she can keep up appearances, and whether her new friends will desert her if she can't. The story has been adapted into a print comic and television series in Korea, and a feature film is in the works.
Doom Breaker, by Blue-Deep, skyrocketed quickly when it was first released in Korea and has over 441,000 subscribers. It's a revenge-rebirth story about a human, Zephyr, who is killed in battle but brought back by the gods for their own entertainment. Returning to a point 10 years earlier in his life, when he was a slave, Zephyr has a second chance to save the world, avenge himself against Tartarus, the god who killed him, and rescue the woman he loved.
Cursed Princess Club, by Lambcat, follows a princess who lacks the usual attributes of beauty and a Disney-esque singing voice but has a kind heart. When she encounters the Cursed Princess Club, she finds a group of like-minded women who help her find her own way of being a princess. The series has over 2 million subscribers.
Boyfriends, by Refrainbow, is a story about four college students embarking on a polyamorous relationship. It has 1.5 million subscribers.
Everything Is Fine, by Mike Birchall, looks like a super-cute slice-of-life comic about a cat-headed family until you start reading it; the sunny pastels and suburban setting cover a much darker reality. The series has over 800,000 subscribers.
Several Webtoon titles have gone to print with other publishers, including Rachel Smythe's Lore Olympus (see "'Lore Olympus' Coming to Print from Del Rey").
Webtoon's parent company, Naver, acquired the reading platform Wattpad earlier this year in a $600 million deal (see "The Fan-to-Pro Pipeline Is Changing").