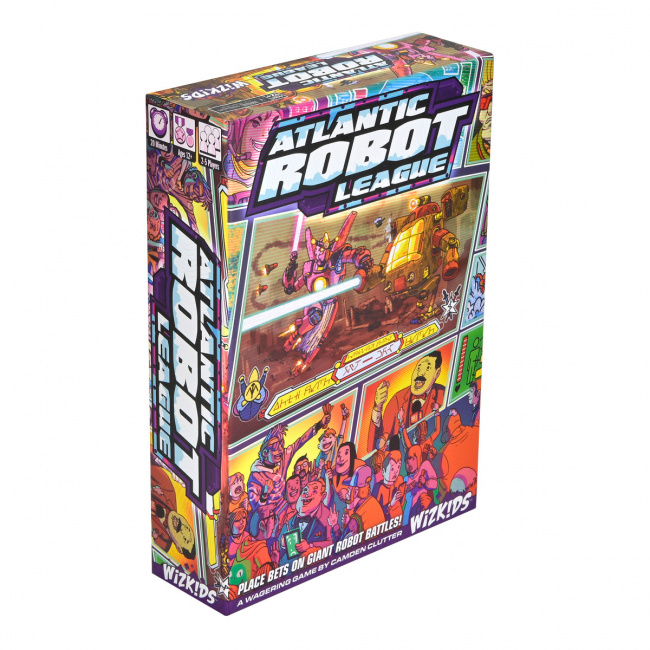 WizKids has announced its giant-mech-battle betting game
Atlantic Robot League
, which will launch this September.
In Atlantic Robot League, players bet on and then manipulate battles between gigantic fighting robots that will do battle across arenas covering multiple city blocks. First, the players secretly place bets on which robot team they think will accomplish various feats in the upcoming battle, including which team will have the most survivors, which will knock out the most robots, or even which specific robots will survive.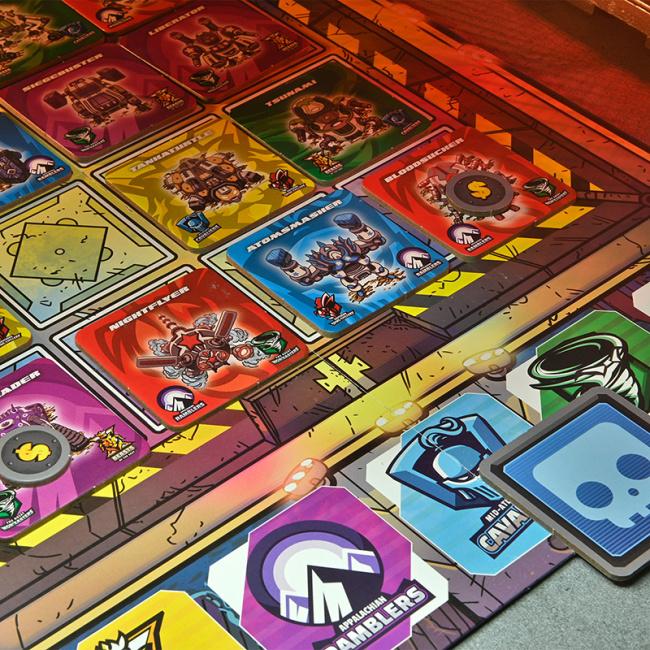 After the bets are placed, teams of three robots each duke it out in the arena. During the battle, the players can influence the results by controlling the actions of the robots or by playing "Scheme" cards. The robots keep fighting until only five remain, at which point the bets are revealed and points awarded.
After three rounds of betting and fighting, the player who has the most points is the winner.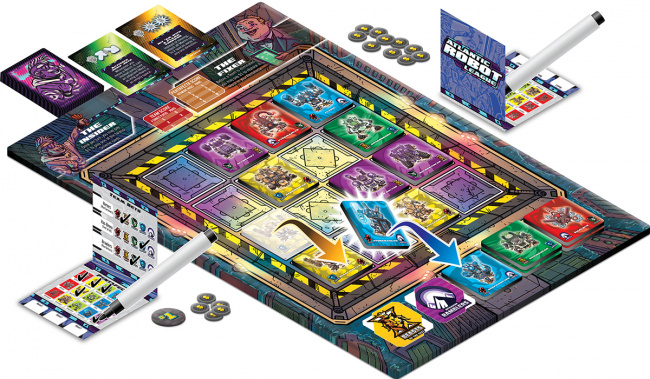 Atlantic Robot League
was designed by Camden Clutter and features artwork by Gabo. The game includes 16 tiles, 14 cards, 1 arena board, 5 dry erase markers, and 41 tokens. It is intended for 2 to 5 players, ages 12 and up, and plays in around 20 minutes. MSRP is $34.99.
Click Gallery below to see some components from the game.
WizKids will also launch Dungeons & Dragons Onslaught in September (see "WizKids Will Release 'D&D Onslaught'"), as well as a deluxe edition of Fantasy Realms (see "WizKids Announces 'Fantasy Realms: Deluxe Edition'"). The company has also announced Onslaught expansions for November (see "WizKids Reveals Two New 'D&D Onslaught' Faction Packs") plus new miniatures sets (see "WizKids Unleashes Two More 'Pathfinder Battles: Impossible Lands' Sets," "Host an In-Store Paint Night with 'D&D Nolzur's Marvelous Miniatures: Paint Kit – Enlarged Duergar'," and "WizKids Unleashes Two Artifact Construct Figures for 'D&D Icons of the Realms'").