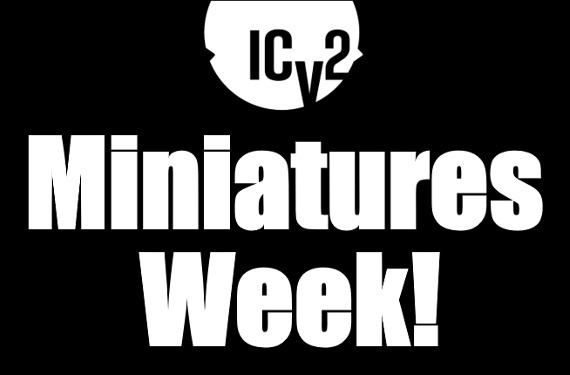 An ICv2 Release.
ICv2 is pleased to announce the launch of its second Miniatures Week event, sponsored by miniatures companies Steamforged Games and Para Bellum Wargames. During Miniatures Week, ICv2 will feature special content about miniatures and miniatures games, including features, previews, news, and opinion.
"Sales of miniatures and miniature games continued to boom in 2021, despite ongoing supply chain challenges and restrictions on organized play for some locations," ICv2 Publisher Milton Griepp said in a statement accompanying the announcement. "There's still a lot of upside for the category as supply chains improve and in-store play resumes. We want to be at the forefront of covering this growing business, so we're devoting an in-depth focus to it during this special editorial event. We want to thank our sponsors Steamforged Games Para Bellum for their support."
Here's the full linked list of Miniatures Week articles:

Features:
Top Sculpts: Best Miniatures Sculpts of 2022 (So Far)
Games Workshop Unleashes 'Warhammer 40,000 Kill Team' Live at Adepticon 2022
Games Workshop Announces Golden Demon USA 2022 Winners
Ideas for In-Store Miniatures Gaming Tabletop Setups
Stocking Miniatures Starter Sets in 2022
News:
'Elder Elemental - Phoenix' Reborn in 'D&D Icons of the Realms'
WizKids Unveils Two 'D&D Icons of the Realm: Strixhaven' Miniatures Sets
Corvus Belli Announces 'Warcrow'
Restoration Games Will Release 'Unmatched Marvel: Hell's Kitchen'
Games Workshop Preorders Two 'Warhammer 40,000' Aeldari HQ Miniatures
WizKids Reveals Monster Packs for 'D&D Nolzur's Marvelous Miniatures'
Previews:
Preview: 'World of Tanks Miniatures Game' - Wave VI Tanks
Miniatures Previews From GAMA Expo 2022
Adepticon 2022 Preview: 'Mister Torgue's Arena of Badassery'

Columns:
Rolling for Initiative -- 'Critical Role' and 'Magic: The Gathering' Miniatures

ICv2 Pro Articles:
Miniatures Demand Remains Strong

Sponsored Content:
Live Your Legend in 'Bardsung' (Steamforged Games)
'Conquest's' 'Old Dominion' Undead Faction Arrives in April! (Para Bellum Wargames)

Watch ICv2 every day during Miniatures Week for more on what's happening in this rapidly growing hobby games category.