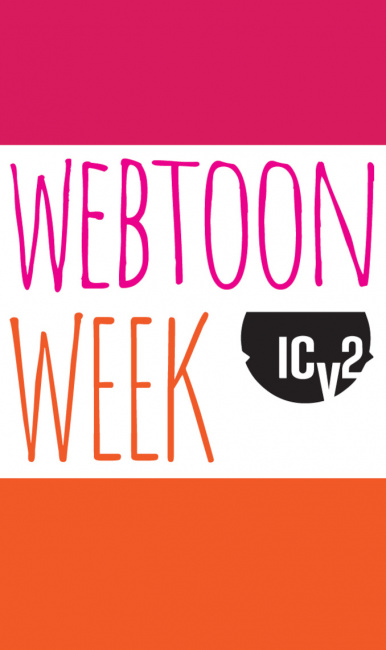 An ICv2 Release.
ICv2 is launching Webtoon Week 2023, a special event focusing on the fastest-growing segment of graphic novels, sponsored by Yen Press, Dark Horse Comics, and WEBTOON Unscrolled. During Webtoon Week, ICv2 will feature special articles, including market reports, interviews, news, and tips looking at this relatively new segment, which brings large pre-existing audiences to print.
"Over the past year since our first Webtoon Week (see "
ICv2 Webtoon Week 2022
"), the importance of this powerful source of new customer acquisition has only grown," ICv2 Publisher Milton Griepp said in announcing the second ICv2 Webtoon Week. "Webtoon titles are topping the Author graphic novel chart much of the time, and publishers are building a growing pipeline of webtoon titles headed for print. Here at ICv2, we're going to augment our long-running coverage of this phenomenon with this special event. We want to thank our sponsors, Yen Press, Dark Horse Comics, and WEBTOON Unscrolled, for their support."
Watch ICv2 every day during Webtoon Week for more on what's happening in the fastest- growing segment of the graphic novel market.
Here's the full linked list of Webtoon Week articles:
News and Features
Seven Seas Licenses 'Ennead' Webtoon
Top Webtoon Graphic Novel Franchises - Spring 2023
ICv2 Interview: Ablaze Co-Founder Rich Young
Apple Entering Webtoon Business
ICv2 Interview: Katie Kubert on DC's Webtoon Program
Exclusive: Ize Press Licenses 'Finding Camellia' Webtoon
ICv2 Interview: Archie Editor Jamie Rotante
ICv2 Interview: Jessica Malloy, VP of Marketing, Marvel Digital Media
Columns
How Webtoons Are Changing the Comics Economy
Confessions of a Comic Book Guy -- Once Again It's Webtoon Week
Previews
Preview: 'Terror Man' Vol. 1 TP (Manhwa)
Preview: 'Animalheads' TP
Preview: 'Not-Sew-Wicked Stepmom' Vol. 1 TP
Preview: 'Signals Vol. 1: Old Neighborhoods' TP

Sponsored Content
Ize Press Presents 'A Business Proposal' and 'The Horizon' (Yen Press)
Explore Stephen McCranie's 'Space Boy' - Now in Print (Dark Horse Comics)
WEBTOON Unscrolled Brings Two Favorite Series to Print with 'Doom Breaker' and 'GremoryLand' (Wattpad WEBTOON)