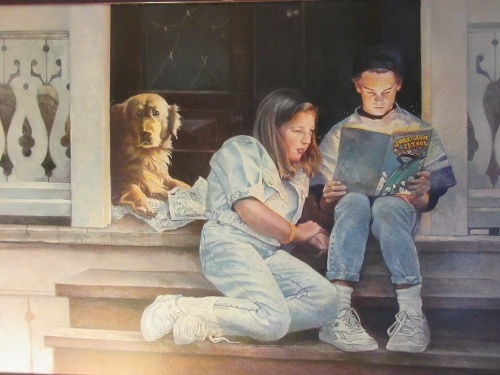 An ICv2 Release.
ICv2.com is launching two weeks of special content on kids graphic novels and comics, sponsored by VIZ Media, Dark Horse Comics, IDW Publishing, Lion Forge, BOOM! Studios, Tokyopop, and Papercutz. The content will include market info, interviews, news, reviews, previews, and special features.
The special event on ICv2.com, "Growing Fast – Kids Comics and Graphic Novels!" is tied to two big events in the category: Free Comic Book Day and Children's Book Week. The first week of our event is Children's Book Week (May 1-7, 2017), which leads into Free Comic Book Day (Saturday, May 6, see "
Silver FCBD Comics Announced
"), with a follow-on week May 8-14.
How big are kids graphic novels today? In an article prepared for ICv2 Pro (currently in closed Beta), we shared our ranking of the Top 10 Graphic Novel Properties for the Fall Season (September – December 2016). The ranking, across all four of our graphic novel categories (Superhero, Author, Manga, and Kids), combined sales info from both comic store and book channel sources on all the volumes associated with various graphic novel properties.
Our findings? Kids graphic novel properties were at least half of the Top Ten properties over-all, across channels!
Babysitter's Club
was #4,
Ghosts
was #6,
Dan TDM: Trayaurus and the Enchanted Crystal
was #7,
Amulet
was #9, and
Big Nate
was #10 (those properties were the bestselling of the Top 10 Kids Franchises, see "
Top 10 Kids GN Franchises – Fall 2016
").
Pokemon
, which could be counted as a Kids or a Manga property, was #5.
Watch for our daily updates to the listing of articles for this editorial event below:
News and Interviews
Tie-ins Are Magic for 'My Little Pony: The Movie'
'Hanazuki' Comic Series Is 'Full of Treasures'
'
Viz Licenses Splatoon Manga
'
ICv2 Interview: VIZ Media VP-Publishing Leyla Acker
'Magical Dances,' 'Disney Descendants,' 'Grimms Manga,' 'Goldfish--Levy Interview'
'The Once and Future Queen'
Dog Days Ahead for "Kid Sherlock'
Three from Lion Forge's Roar Imprint
A New Take on Classic Fairy Tale and a Space Adventure
DC Plans Young Readers Imprint
ICv2 Interview: BOOM!'s Filip Sablik
ICv2 Interview: Dark Horse's Shantel LaRocque
ICv2 Interview: IDW's Chris Ryall and Sarah Gaydos
ICv2 Interview: Lion Forge's Andrea Colvin

Kids Graphic Novel Previews
Preview: 'Making Scents' HC
'Surfside Girls' Debuts for Summer
Preview: 'The Tea Dragon Society' HC
Preview: 'The Scarlet Rose' Vol. 1 GN
Preview: 'The Only Living Boy Vol. 5: To Save A Shattered World' GN
Preview: 'Glister' TP
Preview: 'The Not-So Secret Society' TP
Exclusive Preview: 'Sheets,' by Brenna Thummler
Exclusive Preview: 'Quantum Mechanics,' by Jeff Weigel
Kids Graphic Novel Reviews
Review: 'The Loud House Vol. 1: There Will Be Chaos' GN
Review: 'The Adventures of John Blake: Mystery of the Ghost Ship' HC
Review: 'Boruto' Vol. 1 TP (Manga)