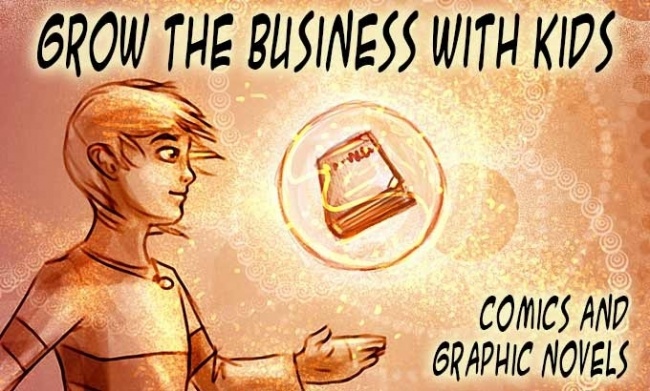 An ICv2 Release.
Kids graphic novels continue to be the fastest growing part of the comics market, with kids titles now the best-selling graphic novels in the U.S. The most extreme example of this trend is
Dog Man;
Scholastic printed five million copies of the most recent volume (see "
Next 'Dog Man' Volume Gets Record Graphic Novel Print Run
").
This week, during Children's Book Week and leading into Free Comic Book Day, ICv2 is publishing special content on kids graphic novels and comics on ICv2.com, sponsored by VIZ Media, Tokyopop, BOOM! Studios, Lion Forge, and NPD.
We'll be running a heavy dose of news on upcoming releases in the category, lots of previews, reviews, and features on successful programs to expand sales of kids comics and graphic novels.
Watch the list below for our updated list of articles for ICv2's Kids Comics and Graphic Novel Week:
Successful Kids Programs
The Dragon Is More than Family-Friendly, It's Family-Focused
Challengers and Sidekicks: Not Just a Kids Section, But a Kids Store
Elementary School Comic Book Club is a Natural Fit for Retailers
Articles
'Rugrats' OGN and One-Shot Collection
'Marvel Illustrator's Sketchbook'
'Loud House' Ratings Drive Graphic Novel Sales
Noelle Stevenson's 'She-Ra' Gets Graphic Novel​
'Dog Man' Merch to Hit in August
Confessions of a Comic Book Guy -- Educate Yourself
Dark Horse Visits 'Disney Storied Places'
Kids Graphic Novels in the Book Channel Up 40% in 2018
Previews
Preview: 'Extraordinary: A Story of an Ordinary Princess'
Preview: 'Monica Adventures Vol. 3 Who's Saying Nasty Things About Me… Online?!' GN
Preview: 'Vincent Book Two: Heartbreak and Parties 101' TP
Reviews
Review: 'Under the Moon: A Catwoman Tale' TP
Review of 'The White Snake' (Graphic Novel)